National Cyber Security Awareness Month: Identity Theft
Oct. 21, 2015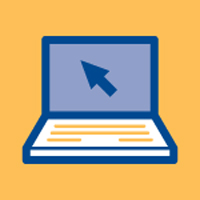 October is National Cyber Security Awareness Month (NCSAM). Originally created as a collaborative effort between government and industry, NCSAM aims to help ensure every American has the resources they need to stay safer and more secure online. 2015 marks the 12th year of the program. For each week during the month, Webster University's Information Technology department will highlight a topic that will help to educate and arm the community against online threats.
Identity Theft
Have you ever lost your cell phone or wallet? If you have, you probably remember the panic that ensues, and the relief if/when you find them. What if next time, you can't locate them—or worse, your identity is stolen? There are steps you can take to protect your property, your identity and your data. Problems caused by identity or mobile device theft, unsafe Web surfing, and unprotected data can be minimized if not avoided entirely.
What is identity theft?
Identity theft occurs when a criminal uses another person's information to take on that person's identity. This can include misuse of Social Security number, credit card, bank account and mail fraud.
How to protect yourself from identity theft:
Keep your Social Security Number safe
Don't give out personal information over the internet
Destroy paper documents containing personal information
Check your bills and bank statements for unauthorized activity and report it immediately
Review your credit report once a year
Stop pre-approved credit card offers (they're a target for identity thieves that steal mail)
If you are asked personal information for a transaction, ask how it will be used and protected
Protect your computer using strong passwords, a firewall, and anti-virus software
Use caution when shopping online (look for "https" in the URL or a padlock icon on the browser window) – read privacy policies and opt out of information sharing
What to do if your data is compromised or stolen:
Contact a major credit bureau agency to place a fraud alert on your credit reports.
Close the accounts that you know or suspect have been compromised.
File a report with local police.
Contact the Social Security Administration Fraud Hotline.
File a complaint with the Federal Trade Commission.
For more information about identity theft and prevention, check out these sites:
News by Topic
Tag Categories
News by Topic
Tag Categories