National Cyber Security Awareness Month: Staying Safe on Public Neworks
Oct. 28, 2015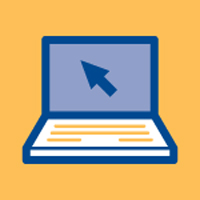 October is National Cyber Security Awareness Month (NCSAM). Originally created as a collaborative effort between government and industry, NCSAM aims to help ensure every American has the resources they need to stay safer and more secure online. 2015 marks the 12th year of the program. For each week during the month, Webster University's Information Technology department will highlight a topic that will help to educate and arm the community against online threats.
How to Stay Safe on Public Wi-Fi Networks
Public Wi-Fi networks—like those in coffee shops or hotels—are not nearly as safe as you may think. Even if they require a password, you are sharing a network with tons of other people, which means your data is at risk. Just because most wireless routers have a firewall to protect you from the internet doesn't mean you're protected from others connected to the same network. It's remarkably easy to steal someone's username and password, or see what they're doing just by being on the same network. Don't take that chance. Here's how to stay safe on your personal devices when you're out and about:
NOTE: Webster provides a secure network environment for all Webster-owned devices – the settings for this environment are configured on all Webster-owned devices and cannot be changed. Therefore, you should never use a Webster-owned device on a public Wi-Fi network without using a VPN (virtual private network) connection.
Tips for Using Shared Wi-Fi Networks
Turn off Sharing

- When you're at home, you may share files, printers, or even allow remote login from other computers on your network. When you're on a public network, you'll want to turn these things off, as anyone can access them.

Enable Your Firewall

- Most operating systems come with at least a basic firewall nowadays, and it's a simple step to keeping unwanted local users from poking at your computer. You may already be using a firewall, but just in case, go into your security settings (in Windows under Control Panel > System and Security > Windows Firewall; and on a Mac under System Preferences > Security & Privacy > Firewall) and make sure your firewall is turned on.

Use HTTPS and SSL Whenever Possible

- Regular web site connections over HTTP exchange lots of plain text over the wireless network you're connected to. Using HTTPS (for visiting web sites) or enabling SSL (when using applications that access the internet, such as an email client) encrypts the data passed back and forth between your computer and that web server and keep it away from prying eyes.

Consider Using a Virtual Private Network (VPN)

- Not all sites offer SSL encryption. Other search engines and email providers may still be vulnerable to others monitoring your activity. VPN services let you route all your activity through a separate secure, private network, giving you the security of a private network even though you're on a public one.

Turn Wi-Fi Off When Not in Use

- If you want to guarantee your security and you're not actively using the internet, simply turn off your Wi-Fi.
There's no magic bullet for data security. While site owners and retailers must clearly start doing more to protect our privacy, we also need to do our part to eliminate as many opportunities for hackers as we can. With just a little awareness and these simple steps, you can protect your data and still enjoy the convenience of public Wi-Fi. Be sure to check back next week to learn about protecting yourself from identity theft.
Previous Security Tips from Cyber Security Awareness Month
tags:  employee news, information technology, cybersecurity, webster today,
News by Topic
Tag Categories
News by Topic
Tag Categories