Webster Hosts 45 for 1st Gateway Library Instruction Conference
Sep. 10, 2015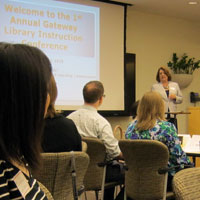 The Webster University Library was host to 45 instruction librarians from colleges and universities across the region for the first Gateway Library Instruction Conference (GLIC) on Sept. 3.
The idea for the conference began as a dream shared by a handful of librarians in informal lunch-and-learns. It evolved into a significant regional event -- and a rare opportunity for higher ed librarians from throughout the region to share, learn, collaborate, and re-energize.
"Finally, an opportunity to meet with other academic library instructors without having to attend an out-of-state conference!" said Karen Robinson, assistant teaching professor, the iSchool at the University of Missouri, & Reference/Instruction Librarian, UM-St. Louis. "It was very helpful for networking, brainstorming and sharing our successes and woes."
The visitors were welcomed with remarks by Laura Rein, dean, University Libraries. Bruce Umbaugh, professor in the Department of Philosophy in Webster's College of Arts & Sciences, delivered the keynote address, "Successful Lives for Students, or, How to Believe in the Future." 
Registrants attended sessions on library classroom design, eLearning, assessment, and marketing punctuated with breaks during which Steven Vance from Washington University delivered workshops on improv techniques for educators.
Overall, these librarians from across the St. Louis region and beyond relished the opportunity to work together and share insights. 
Richard "Ted" Chaffin, head of Instructional Support Services, Washington University Libraries, co-founded GLIC 2015 and worked closely with Holly Hubenschmidt, Webster's head of Instruction Liaison Services, to pull it off. 
"It was a tremendous pleasure to work with Holly and her fantastic team of librarians to create and execute the first annual Gateway Library Instruction Conference," Chaffin said. "The conference was an absolute success, and feedback has been flying in about how useful and timely the conference was for librarians providing instruction."
tags:  academics, faculty, webster life, webster today,
News by Topic
Tag Categories
News by Topic
Tag Categories