School of Education Celebrates Media Literacy Week with Gateway Media Literacy Partners
Nov. 9, 2015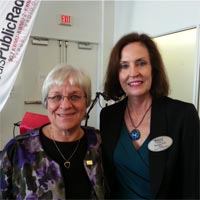 Webster University's School of Education was proud to partner with Gateway Media Literacy Partners (GMLP) for a number of events during Media Literacy Week, which took place Nov. 1-7.
This year's theme focused on Early Childhood, an ideal theme for School of Education faculty to lend their expertise.
Brenda Fyfe, dean of the School of Education, is a member of GMLP's steering committee and had an opportunity to participate in a live panel presentation with St. Louis Public Radio's "St. Louis on the Air" on Monday, Nov. 2.
Art Silverblatt, recently retired professor and media literacy expert from Webster's School of Communications, also participated on the panel.
"Listening is so important, listening to what [children are] taking in from the media," Fyfe said during St. Louis Public Radio's live panel presentation. "Sometimes we just run right over children and guide them and direct them and put them through experiences and never take the time to hear what's going on in their minds."
The full recording of the panel presentation can be found here on St. Louis Public Radio's website.
Additionally, as part of Media Literacy Week, the School of Education was excited to host a kick-off event on Sunday, Nov. 1, at which Dafna Lemish, professor and dean in the College of Mass Communication and Media Arts at Southern Illinois University–Carbondale delivered a keynote address titled "Media and Early Childhood: What Do We Need to Know?"
Lemish's speech was underwritten by the School of Education's Beatrice and David Kornblum Institute for Excellence. Bea Kornblum was one of the first St. Louis teachers to use the medium of newspapers to teach city high school students about economics.
Media Literacy Week, according to GMLP, "is when community citizens—educators, media professionals, youth and youth advocates, health educators, librarians, journalists, academics, researchers, and administrators—participate in workshops, presentations, and other educational programming focusing on ways to promote and sustain media literacy," and it "encourages community wide conversations about this important 21st century survival skill."
More information on 2015 Media Literacy Week events can be found online at gmlpstl.org.
tags:  academics, school of communications, school of education, community engagement, webster today,
News by Topic
Tag Categories
News by Topic
Tag Categories