Book Signing with Brenda Newberry, Alumna and Chair Emeritus
Oct. 13, 2015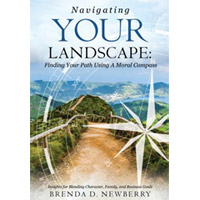 The Webster University Community is invited to attend a reception honoring Brenda Newberry, Webster University alumna and chair emeritus, Board of Trustees, on the publication of her book, "Navigating Your Landscape: Finding Your Path Using a Moral Compass."
Wednesday, Oct. 21:
4 p.m. - Reception
4:30 p.m. - Presentation
5 p.m. - Booksigning 
Books will be available for purchase at the event in the East Academic Building, Room 253/262.
RSVP to Nancy Higgins at Higgins@webster.edu.
About Newberry
Newberry is the founder of the Newberry Group, Inc. a nationally awarded Cyber Security Firm recognized by Deloitte Touché (2001, 2003, 2004, 2005, 2006) and Inc. 500 (2004, 2005, 2006) as a fastest growing private business. She was awarded the 2013 St. Louis Woman of Achievement for Civic Responsibility, the 2012 St. Louis Forum Trailblazer Award, and was inducted into the Small Business Administration Hall of Fame in 2011. She credits her lifetime of awards and achievements through faith, hard work, sacrifice and commitment – in spite of adversity, challenges and societal perceptions.
Newberry served six years in the U.S. Air Force. In 1978, she was selected as one of 12 outstanding airmen out of 570,000 candidates representing the U.S. Air Force in Europe. She received a bachelor's degree in business from the University of Maryland European Division and a master's degree in Business Management from Webster in 1979 after she left the Air Force. Newberry then went to work for McDonnell Douglas as a logistics engineer and systems programmer, then joined Master Card in 1984, where she advanced to vice president and managed the global growth of a business unit that provided imaging technology.  
Read a profile of Newberry in Glimpse, the Webster alumni digital magazine.
About 'Navigating Your Landscape'
Within the pages of Brenda D. Newberry's new book, Navigating Your Landscape, readers will discover how to dream, set goals, and live a life to see those dreams realized. As an African American, regular person without influential contacts, famous parents, or celebrity connections, the author accomplished her own dreams and goals despite struggles. Readers take away some practical wisdom and tips for fulfilling dreams. This book shares her experiences, stories, and life lessons.
"One can navigate through life using obstacles as springboards rather than barriers," states the author. "Learn through various means from those that have safely, legally, ethically, morally and successfully navigated the 'territories' in which you find yourself – then continue on your own journey to reach your destinations and fulfill your life purposes. We all have many landscapes to navigate and many purposes in life."
Read more at Xulon Press.
Watch a trailer for the book here:
tags:  alumni, webster today,
News by Topic
Tag Categories
News by Topic
Tag Categories