Integrated Newsroom Launched at news.webster.edu
Jul. 27, 2015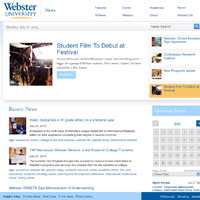 A newsroom was launched this month at news.webster.edu. This integrated approach to news and announcements will make it easier for the community to find all that is happening at Webster University and will also make it possible to use "push" technologies to reach audiences in new way.
The change means that the Webster Today blog, which launched in November 2010, is closing and all future Webster Today content will appear in the newsroom.
"This is an important next step as the Global Marketing & Communications (GMC) unit works to advance communication across Webster's network of campus locations and with our external audiences," said Barbara O'Malley, Webster's chief communication officer. "GMC's Offices of Public Relations, Strategic Communications and Digital Marketing have effectively teamed to enhance internal and external communication integration."
The "News & Events" links in the global navigation at webster.edu now point to the newsroom. Several newsroom categories have been created to make it easier for readers to find topical content, such as stories about Webster's global network or posts that focus on academics. But the newsroom expands beyond the static categories, as it utilizes tags to allow instantaneous creation of topic-specific RSS feeds, as well as better search functions that only search newsroom stories and the archives of the old Webster Today blog.
"How people consume news is constantly changing," said Dominik Jansky, communications director. "Today it's all about content, deliverable on a variety of platforms. As we generate stories, the highlights of what's happening at Webster can be directed in lots of ways – to social media, to traditional media, to our internal audiences. People already share and refer to Webster Today stories in many of these settings, so we are excited that the Office of Digital Marketing created a newsroom environment that enables that while also better connecting each story's readership with other information on webster.edu."
A major reason for this initiative is to better integrate news content from throughout the Webster network, particularly as Webster's international sites migrate to a unified web platform. The newsroom also will allow students, faculty, staff, alumni and prospective students to access the stories that are most important to them. Individual departments and schools will be able to create feeds to their web pages that only show stories about their programs and topic areas. In a future update, this same system also will  allow for the creation of custom e-newsletters that push existing stories and events to targeted audiences.
Getting the Word Out
"The newsroom is about telling Webster's stories and engaging our audiences around the globe," said Patrick Giblin, public relations director. "News today needs to be compelling and entertaining, and it also has to be relevant to the audiences we are trying to reach while at the same time reflecting Webster's diversity. This new platform is a tool that will help us reach that goal."
In FY14-15, GMC media monitoring indicates more than 18,000 media impressions in the U.S. In addition, global media stories were picked up in Geneva, Ghana, Leiden, Thailand and Vienna.
"Webster University used to be a best-kept secret, but the word is getting out," O'Malley said. "As we tell the stories campus by campus and community by community around the world, we exhibit the Webster brand of local commitment and global connections."
Currently, the newsroom features Webster Today announcements and other stories generated by GMC. Future plans include incorporating news content from individual schools and departments, and domestic and international campus locations.
Look for updates and new features in the newsroom as it evolves. Questions can be sent to webstertoday@webster.edu.
tags:  employee news, webster today, employee, global marketing and communications,
News by Topic
Tag Categories
News by Topic
Tag Categories