Albuquerque's Wright Retires After 33 Years of Service
Dec. 17, 2015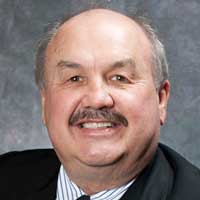 The Office of Academic Affairs extends Randy Wright, associate vice president and director of the Albuquerque metro campus location, best wishes upon his retirement.
Wright began his career with Webster University as a program coordinator at Pope Air Force Base, North Carolina, in 1982. Throughout the 1980s, he moved into two director roles: first at Pope Air Force Base, then at Albuquerque, New Mexico. In January 1996, he was called to St. Louis as a special assistant to the executive vice president for Academic Affairs. Wright advanced to associate vice president, and was part of the leadership team overseeing metropolitan and military operations in the U.S. In that role, he contributed significantly to the growth of military campuses in the 1990s and 2000s, advancing Webster's status as a leader in military education.  
 
"Randy has brought a unique perspective to the work needed to be done in the extended domestic campus network," said Beth Russell, assistant provost for Graduate Studies. "He has always been willing to share suggestions to create positive solutions."  
 
Congratulations can be sent to Wright at the Albuquerque campus location.
tags:  employee news, extended campus, webster today, academi affairs, albuquerque,
News by Topic
Tag Categories
News by Topic
Tag Categories