Planned Power Outage Oct. 20 in Visual Arts Studio
Oct. 19, 2015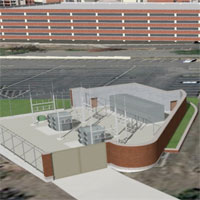 The Visual Arts Studio will be inaccessible on Tuesday, Oct. 20, from 6 p.m. to 12 a.m. due to a planned power outage connected with Webster's Electrical Customer Substation project. The contractor will be replacing outdated main electrical panels in the building.
The building will not be accessible to staff, faculty, or students during this time as there will be no electrical power in the building.
For those affected, please turn off your computer and any other electronic equipment. Also, remove food from refrigerators and take precautions with small office refrigerators, as they will defrost.
The Department of Facilities Planning and Management will keep the local Webster community informed as the Electrical Customer Substation work progresses. If you have any questions, please contact Jim Ward, project manager, at 314-246-7481 or via e-mail at wardji@webster.edu. 
News by Topic
Tag Categories
News by Topic
Tag Categories