Thomas Johnson Named Interim Dean of School of Business & Technology
Jun. 4, 2015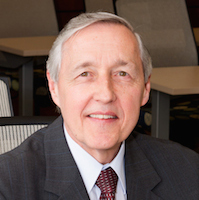 ST. LOUIS (June 4, 2015) - Thomas Johnson, Ph.D., associate vice president and chief of strategic initiatives at Webster University, has been named interim dean of Webster's George Herbert Walker School of Business & Technology.
Since arriving at Webster University in 2012, Johnson has spearheaded several strategic initiatives, including identifying and executing market- and student-responsive opportunities such as the creation of the University's cybersecurity program.
"Dr. Johnson is a natural fit to lead the Walker School during this leadership transition," said Julian Schuster, Webster provost, senior vice president and chief operating officer. "His work with academic programs and faculty at Webster, as well as his extensive previous experience in higher education, in the governmental sector and in science and technology will serve Webster's largest school well."
Johnson previously served as dean of the College of Criminal Justice and Forensic Sciences at the University of New Haven for 13 years, during which time he worked with faculty to develop new programs in the areas of national security, digital forensics and advanced investigation. In the governmental sector, he has developed programs in criminal justice, national security, emergency management, occupational safety and health, and fire science. He has also trained law enforcement agents and prosecutors from more than 30 countries in areas such as computer crime and advanced investigations.
After serving as dean at the University of New Haven, Johnson co-founded the California Sciences Institute, delivering Ph.D. research programs in national security and digital computer forensics.  He earned a bachelor of science degree with honors and a master of science degree from the School of Public Administration and Public Safety at Michigan State University and a doctoral degree from the School of Criminology at the University of California – Berkeley.
Johnson has published seven books, 13 referred articles; holds copyright on four software programs and his chapter on "Infrastructure Warriors: A Threat to the U.S. Homeland," was published by the Strategic Studies Institute of the U.S. Army War College. In addition to lecturing at the U.S. Army War College, Carlisle Barracks, he has also lectured at the Federal Law Enforcement Training Center, and numerous universities.
Johnson will begin transitioning to his new role immediately and will fully assume interim dean duties on July 1. Current dean Benjamin Akande has been named the president of Westminster College in Fulton, Missouri, effective July 1.
About Webster University
With its home campus in St. Louis, Missouri, USA, Webster University (www.webster.edu) comprises an action-oriented global network of faculty, staff, students and alumni who forge powerful bonds with each other and with their communities around the globe. Founded in 1915, Webster is a private non-profit university with almost 20,000 students studying at campus locations in North America, Europe, Asia and Africa and in a robust learning environment online. The university is committed to delivering high-quality learning experiences that transform students for global citizenship and individual excellence.
About the Webster University Walker School
The George Herbert Walker School of Business & Technology is Webster University's largest school with approximately 13,000 students worldwide. The Walker School houses three distinct departments  (Business, Management and Mathematics & Computer Science). It is the first business school of a non-profit traditional multi-campus university in the U.S. to receive the ACBSP (Accreditation Council for Business Schools and Programs) accreditation. The school currently offers more than 30 undergraduate and graduate academic programs and has a presence at all of Webster's campuses and online. The Walker School's mission is to develop skilled, innovative, and responsible leaders with a global perspective through a challenging, supportive, and dynamic academic environment.
tags:  academics, school of business and technology, webster today,
News by Topic
Tag Categories
News by Topic
Tag Categories