Adjunct Faculty Development Fund Award Recipients Announced
Nov. 1, 2016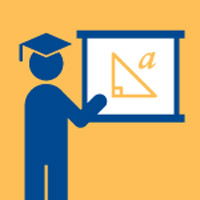 The Office of Academic Affairs is pleased to announce recipients of the 2016-17 Adjunct Faculty Development Fund awards.
The fund, which was established by the Provost's Office earlier this year, provides support for eligible faculty to offset expenses for professional development, travel or research that benefit teaching and contribute to the experience of Webster's students.
The maximum award for each participant is $1,000. Congratulations to these deserving adjunct faculty members!
2016-17 Adjunct Faculty Development Fund Awardees
Jessica Z. Brown-Billhymer, School of Communications, Communication & Journalism, Webster Groves
Con Christeson, School of Communications, Communication & Journalism, Webster Groves
Terry Cooper, College of Arts & Sciences, Religious Studies, Webster Groves
C. Wayne Davis, George Herbert Walker School of Business & Technology, Management, Webster Groves
Peter Harper, George Herbert Walker School of Business & Technology, Business, Luke Air Force Base
Ernest Ledbetter Jr., George Herbert Walker School of Business & Technology, Business, Fort Jackson
Nikolay Megits, George Herbert Walker School of Business & Technology, Management, Online
Heather Patterson, Leigh Gerdine College of Fine Arts, Music, Webster Groves
Terri Reilly, College of Arts & Sciences, Anthropology & Sociology, Webster Groves
Elizabeth Sausele, College of Arts & Sciences, History, Politics & International Relations, Webster Groves
Angela Sencibaugh, SOE, Language, Literacy & Leadership, Webster Groves
Jeffrey Seward, George Herbert Walker School of Business & Technology, Business, Tampa/St. Petersburg
Cory Simek, George Herbert Walker School of Business & Technology, Business, Webster Groves
Julie Smith, School of Communications, Communication & Journalism, Webster Groves
Maria Mercedes Stephenson, College of Arts & Sciences, International Languages & Cultures, Webster Groves
Edythe Weeks, College of Arts & Sciences, History, Politics & International Relations, Webster Groves
tags:  college of arts and sciences, college of fine arts, employee news, faculty, provost, school of business and technology, school of communications, school of education, webster today,
News by Topic
Tag Categories
News by Topic
Tag Categories