Upcoming Leave, Backup in Academic Resource Center
Nov. 22, 2016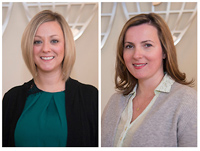 As previously announced earlier this fall, the Academic Resource Center (ARC) will have backup resources available during two upcoming staff absences. Shelley Wolfmeyer, Academic ADA coordinator, and Sanela Bejdic, Testing Center coordinator, are each expecting babies and will be out of the office later in the year and through Feb. 13.
Wolfmeyer welcomed a son, her second, on Nov. 21 and will be on leave until Monday, Feb. 13. During that time, Erica Ellard, director of the Academic Resource Center, will be available to answer questions about disability accommodations and document students seeking accommodations. Ellard may be reached at 314-246-7702 or ericaellard90@webster.edu. 
Bejdic's scheduled last day in the office is Friday, Dec. 16. During her absence, Chris Robinson, Tutoring Program coordinator, will be managing the Testing Center.
tags:  employee news, academic resource center, webster today,
News by Topic
Tag Categories
News by Topic
Tag Categories