Around Webster: Huang in Taiwan, Assner-Alvey RAC grant, Barnidge at Haifa, Rodriguez at MALAS
Jan. 14, 2016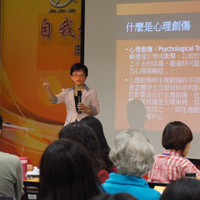 Recent professional news and achievements for Webster University community members include:
Huang Leads Counselors in Taiwan on Psychological Trauma
Hsin-hsin Huang, director of curriculum in the Department of Professional Counseling, recently returned from delivering a whole-day workshop in Tainan, Taiwan, to over 140 social workers, counselors, and ministers on the subject of working with developmental and psychological trauma.
The workshop was co-sponsored by the Linch Foundation and the National Union of Professional Social Worker Association in Taiwan. Topics presented included: Impact of Psychological Trauma and Treatment Considerations, Enhancing Client Self-Confidence and Self-Care, and the Use of Inner-Child Techniques in Treatment.
Assner-Alvey Receives RAC Grant
Robin Assner-Alvey, associate professor in the Department of Art, Design, and Art History, was awarded an Artist Support Grant from the Regional Arts Commission in St. Louis.
Barnidge Appointment at University of Haifa
Robert P. Barnidge, Jr., lecturer and coordinator of International Relations in the College of Arts & Sciences, was just appointed an Affiliated Professor at the University of Haifa, Israel.
Rodriguez Elected Treasurer of MALAS
Guillermo A. Rodríguez, director of International Projects and Study Abroad, was elected treasurer of the Midwest Association for Latin American Studies (MALAS) during the annual meeting of the association hosted by Millersville University and held in Millersville, a Lancaster, Pennsylvania, suburb.
The origins of the Midwest Association for Latin American Studies go back to the 1940s, after the Pan American Union (today's Organization of American States) fostered the establishment of five regional councils for Latin American Studies.
The purposes of MALAS, a nonprofit organization incorporated in Missouri, are: (a) to stimulate public interest in and understanding of the area of Latin America ; (b) to promote the study of the area in institutions of education ; (c) to encourage research in the area by scholars of all disciplines ; (d) to serve as a forum for the exchanges and dissemination of information relative to the area ; and (e) to cooperate with the Latin American Studies Association and regional associations, the Organization of American States, and institutions and individuals within Latin America and elsewhere, for the achievement of these purposes.
tags:  college of arts and sciences, college of fine arts, employee news, faculty, webster today,
News by Topic
Tag Categories
News by Topic
Tag Categories