Goodarzi in Chicago; Jensen lifetime achievement; Chamberlin performs in Lebanon
Nov. 8, 2016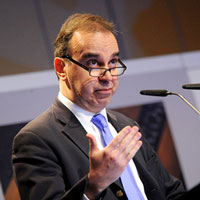 Recent professional news and achievements from Webster University community members include:
Goodarzi Presents on Iran at Northwestern, U. of Chicago 
Jubin Goodarzi, associate professor and deputy head of the International Relations Department at the Geneva campus, spent the Fall 1 term on faculty mobility at the St. Louis campus, where he taught a history course and participated in the activities of the Department of History, Politics and International Relations (HPIR). 
While at the home campus where Webster was founded in 1915, he was part of a panel discussing foreign perspectives on the U.S. presidential elections, where he explained the various views in the Middle East on the November elections. 
In mid-October, Goodarzi traveled to Chicago, where he gave a presentation on Iranian foreign policy at a seminar at Northwestern University, and later on the same day, he delivered a lecture at the University of Chicago's Center for Middle Eastern Studies (CMES), "Iran and Syria: the Rise, Decline and Durability of the Tehran-Damascus Alliance."
In his lecture, Goodarzi traced the rise and evolution of the alliance between Iran and Syria since its inception in 1979. 
Read more at Webster Geneva.
Jensen Receives Norton Lifetime Achievement Award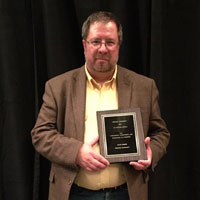 Scott Jensen, longtime forensics director and professor, School of Communications, was awarded the L.E. Norton Award for compassion, commitment and dedication to forensics and debate.
The award was presented at Bradley University's 69th annual Norton Invitational Tournament. Dr. Larry Norton of Bradley University dedicated his life to forensics, including being a prominent leader and Past President of Pi Kappa Delta, the nation's largest and oldest forensic honor society. Norton also created two of the main stay individual events that students still participate in today. 
The L.E. Norton Award is a lifetime achievement award, presented annually at this tournament. The tournament is one of the largest and most prestigious individual event tournaments in the nation. This year's event attracted 48 schools from throughout the nation, including most who are consistently among the top 10 in the nation.
Jensen coached and taught forensics for 32 years, including 20 at Webster University. He stepped down from forensics this year in order to direct his attention to other projects and responsibilities.
Chamberlin Plays Recital on First Pipe Organ
Bob Chamberlin, emeritus professor of music, played an organ recital in Lebanon, Pennsylvania, in October.  
"It is with great pleasure that I am able to present this program on the first pipe organ I ever played," Chamberlin wrote in the program notes for the concert at Hill Lutheran Church. 
Chamberlin performed music by several organ greats include Karg-Elert, Langlois, Widor, Mendelsson, and Bach.  A composer himself, Chamberlin also performed several of his own compositions based on hymn tunes.  
Chamberlin's compositions have been performed throughout the United States, Canada, the Netherlands and Poland. He is currently organist at Gethsemane Lutheran Church, Saint Louis, and an active member of the local chapter of the American Guild of Organists.
tags:  academics, college of arts and sciences, geneva, department of music, international relations, forensics and debate, employee news, faculty, global, school of communications, webster today,
News by Topic
Tag Categories
News by Topic
Tag Categories