Around Webster: Geczi on assessment; Roither at TESOL; Neal judges; Smith on trauma; Schuster's novel
Apr. 26, 2016
Recent professional activities and achievements by Webster University community members include:
Geczi Keynotes on Assessment in Libraries at SIUE
Judy Geczi, Instruction and Liaison Services librarian, was a keynote speaker for Lovejoy Library's Spring Symposium 2016 at Southern Illinois University – Edwardsville.  She presented on "Assessment in Libraries" with Carol Mollman of Washington University in St. Louis.
The symposium, "Assessment in Libraries: Measuring Impact, Planning for Success" feature librarians with academic and library system perspectives sharing their library assessment knowledge and experiences.
Roiter on Flipped Classrooms at TESOL Conventions 
Amy Roither, associate adjunct professor of ESL in the International Languages and Cultures department of the College of Arts & Sciences, presented at the  April 4 Teachers of English to Speakers of Other Languages (TESOL) International Convention and English Language Expo in Baltimore, Maryland. Roither's workshop, "Building Content: Resources for Creating a Flipped Classroom," focused on three ways to build content in flipped lessons using readily available and free technological platforms: Rich Internet Applications, Spreaker Studio, and Google Forms. Her workshop drew an audience that engaged in discussion, scaffolded hands-on activities and reflection.
The nearly two-hour workshop was the culmination of several shorter presentations that Roither has given in the past two years. On Oct. 24, she presented "Rich Internet Applications for University ESL Courses" at MIDTESOL in Iowa City, Iowa. Roither is a member of both TESOL and MIDTESOL.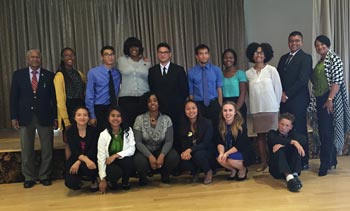 Neal Represents Webster for Boys & Girls Club Youth Competition 
Janice Neal, director of the Webster Los Angeles Air Force Base campus location, was selected to participate as a judge during the 2016 Boys & Girls Club of America Youth of the Year - Military Youth Competition, held at Fort MacArthur in San Pedro, California 
Twelve participants represented various military installations across California, during the week-long event.  Judging included an interview and speech and culminated with dinner, for sponsors and family members. The winner advanced to the regional and national competition. The national competition will be held in Washington, D.C. and will include a visit with President Barack Obama.
This is the second year Webster has participated.
Smith Presents on Impacts of Trauma  on Students
Gladys Smith, assistant director, Counseling and Life Development Office, spoke at two events to raise awareness on the impact of trauma in our community.
On April 6 she presented at St. Louis University as a part of their ATLAS week: Reaching Across Borders. The topic was America's War Zones: Understanding the Effects of PTSD in inner City America. 
On April 9 she presented to Northwest Academy of Law for the sorority AKA in their mental health awareness campaign, serving on the panel, "Trauma: Invisible Wounds Impacting Academic Achievement."   
Praise for 'The Might Have Been' by Joe Schuster
Literary Hub, a collaborative blog of major and mid-sized publishers, literary journals and bookstores, cited Joe Schuster's novel The Might Have Been as one of 10 notable contemporary baseball books. Schuster is a professor in the Department of Communications and Journalism in Webster's School of Communications. The article said, in part, "Like any sports novel worth its salt, The Might Have Been is about regret, limitations, and our infinite, absurd capacity for hope." 
tags:  academics, employee news, faculty, school of communications, college of arts and sciences, library, webster today,
News by Topic
Tag Categories
News by Topic
Tag Categories