2017 Commencement: Staff, Faculty Bus Schedule May 12-13
Apr. 6, 2017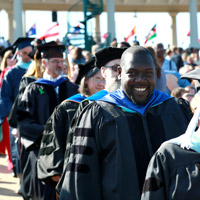 Webster University's 98th Commencement ceremonies take place on Saturday, May 13, in St. Louis at the historic outdoor amphitheater, The Muny in Forest Park.
Bus transport is provided for faculty and staff participating in the Commencement rehearsal on May 12.Chartered buses will also be available to transport Commencement staff and participating faculty to and from campus on May 13.
There is no formal sign-up required to ride the buses on either day.
Commencement Rehearsal  – Friday, May 12
Depart to The Muny (leaving from the University Center Lot H)
8:45 a.m. (arrival in Forest Park at 9:30 a.m.)
Return to the University Center (begin loading at the Muny Forest Park)
11:15 a.m. (arrival at University Center Lot H 12 p.m.)
Commencement  – Saturday, May 13
Depart to The Muny (leaving from the University Center Lot H)
Bus 1 – 6 a.m. (arrival 6:45 a.m.)
Bus 2 – 6:15 a.m. (arrival 7:00 a.m.)
Return to the University Center (leaving from the Upper Muny Parking Lot)
Bus 1 – 12:30 p.m. (arrival 1:15 p.m.)
Bus 2 – 1 p.m. (arrival 1:45 p.m.)
tags:  employee news, faculty, webster today, commencement, ,
News by Topic
Tag Categories
News by Topic
Tag Categories