Cuillé to Receive Order of the Academic Palms from the French Government
Nov. 22, 2016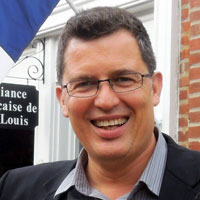 ST. LOUIS – Professor Lionel Cuillé will be honored as Chevalier in the "Ordre des Palmes académiques" (Knight in the French Order of Academic Palms) by Vincent Floreani, General Consul of France in Chicago. The ceremony will be held Jan. 12, 2017 on the Webster University home campus.
In 2012, Cuillé was named the Jane and Bruce Robert endowed Chair in French and Francophone Studies in the Department of International Languages & Cultures in the College of Arts & Sciences. That same year he founded the Centre Francophone at Webster, which promotes Francophone culture and literature in the St Louis area. He holds a doctorate in Literature and the Arts from the prestigious E.N.S in Lettres et Sciences Humaines (Lyon) where he co-directed the Centre d'Etudes Poétiques. His area of specialization is 19th-21st century French literature.
"I am honored to receive this award and to be recognized for my work at Webster University," Cuillé said. "It makes sense to promote French culture in a town founded in 1764 by Laclède, Chouteau, and St Ange de Bellerive. Teaching French language and literature is also important at Webster, a university whose mission is to educate Global Citizens. Today, a foreign language is an essential skill for our students: they learn to adopt different perspectives of their own culture, to be more creative, and to navigate cultural differences."
The "Ordre des Palmes académique," created by Napoleon I in 1808, recognizes those who have rendered eminent service to French education and have contributed actively to the prestige of French culture.
Cuillé, who teaches French literature, invites renowned writers, academics and artists to Webster to discuss various aspects of the French culture. These events have ranged from discussions about literature (Arno Bertina), human rights (Michel Agier, Sylvie Tissot), philosophy (Marc Crépon), cinema (Agnès Varda), diversity (Christiane Taubira) or economy (Thomas Piketty). He also organizes workshops for teachers of French in the St Louis area in partnership with the French Embassy, and is now the main partner for the "Midwest Museum Project," a project which consists of creating tutoring kits for teachers of French who will visit the French artworks at the Saint Louis Art Museum and the Kemper museum. He leads a French discussion group once a month.
During the 250th anniversary of St Louis, he participated in the PBS documentary "Chouteau in his own word" and hosted the annual international Francophone conference which took place for the first time in St. Louis and attracted more than 350 speakers from around the world. In the past four years, he has hosted numerous events at Webster University, among them a Franco-American discussion on GMOs during which he moderated a discussion with filmmaker Marie-Monique Robin, director of "The world according to Monsanto," and a panel of Monsanto scientists. The Centre Francophone is now recognized as an important Francophile association in the Midwest.
In the United States, the French Embassy reviews dossiers for nominations before sending them to the Ministry of Education in Paris, which makes the final decision. Nominations are made by decree of the Prime Minister and upon proposal by the Minister of Education.
Cuillé is not the first Webster University community member to receive the "Ordre des Palmes académiques." Board of Directors member Jane Robert '69 was made an officer in 2011 for her highly regarded work advocating the study of French. Robert also received the French Legion of Honor in 2007, which is the highest distinction awarded by the French government.
With its home campus in St. Louis, Missouri, USA, Webster University (www.webster.edu) comprises an action-oriented global network of faculty, staff, students and alumni who forge powerful bonds with each other and with their communities around the globe. Founded in 1915, Webster is a private non-profit university with nearly 17,000 students studying at campus locations in North America, Europe, Asia and Africa and in a robust learning environment online. The university is committed to delivering high-quality learning experiences that transform students for global citizenship and individual excellence.
tags:  college of arts and sciences, employee news, faculty, featured, home page, provost, webster today,
News by Topic
Tag Categories
News by Topic
Tag Categories