Malfunction and Technical Hiccup Explored in Assner-Alvey Exhibit at Duet Gallery, Opening Reception Oct. 7
Sep. 30, 2016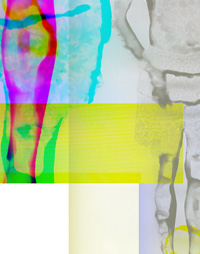 Robin Assner-Alvey's work is part of the next exhibit at Duet Gallery in downtown St. Louis, in a collection with Washington, D.C., artist Dean Kessmann, where both play with malfunction and the technical hiccup.
Assner-Alvey is associate professor in the Department of Art, Design & Art History in Webster University's Leigh Gerdine College of Fine Arts. In this exhibit, her work combines the ghostly apparition as a series of abstractions that radiate in layers from the edge of the figure to the edge of the frame. A photocopy of a photocopy of a photocopy, deepening to the point that recognition completely breaks down and where lovely colors and shapes play.
Kessmann fuses the graphic designer's individual utilitarian layout for printer's registration marks and CMYK color management bar with an extended blowup that ultimately reveals that color is never quite balanced and is always somehow misaligned. 
The opening reception at Duet Gallery on 3526 Washington Avenue is Friday, Oct. 7, 6 p.m. The exhibit runs through Nov. 26, 2016.
tags:  academics, college of fine arts, faculty, webster today,
News by Topic
Tag Categories
News by Topic
Tag Categories