How to Update Your Directory Listing
Mar. 22, 2016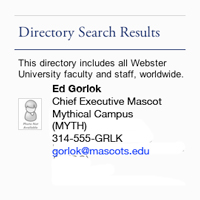 Is your directory listing information correct?
Keeping Webster's online Faculty/Staff directory up to date is very important. Updating the directory is a decentralized process in which all departments and campuses must participate.
To make sure every department and extended campus' directory entries are current, the responsibility should be assigned to one person and another backup person in each area.
To make the updates, these representatives will need CX Directory Update permissions.
The designated employee's supervisor may request permissions by submitting a work order via the Cherwell customer portal. In order to do so, the supervisor must select Change/Modify Access under the Systems Access Forms (ESA) category, fill it out completely, then submit it. If you have any questions, please contact the IT Service Desk.
News by Topic
Tag Categories
News by Topic
Tag Categories