Message from President and Provost on Diversity and Inclusion
Apr. 22, 2016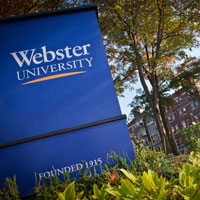 Members of the Webster University Community:
Webster University is on a continuous path of learning as we transform our students, our communities, and ourselves as global citizens. That is why we convened the Embracing Diversity & Inclusion Conference held on February 29 – March 1, 2016 at the Webster Groves home campus. We hope you had the opportunity to attend one or many of the Conference discussions as a diverse and inclusive array of speakers introduced multiple aspects of inclusion.
 We would like to thank all those who participated in and attended the conference, including members of our Board of Trustees.  We have received tremendous and positive feedback about the conference, and we are soliciting feedback from conference attendees about how to improve the experience for next year.  Please mark your calendars now for March 1 - 2, 2017 for next year's conference.
We have officially launched the Diversity and Inclusion Working Groups announced in December. 
• Academic Curriculum: Courses and Programs
Student Success: Admission, Retention and Graduation Rates
Co-Chairs: Simone Cummings and Dani MacCartney

• Finance: Affordability and Scholarships
Priorities for University Funding: Events, Programs, Facilities for Students
Co-Chairs: Ted Hoef and Eric Rhiney
• Diversity of Employees: Faculty and Staff
Education/Training for Employees and Students
Co-Chairs: Sanela Bejdic and Nicole Roach
These groups will lead the efforts to strengthen the institution's commitment to inclusive excellence, including: 
Conducting an internal assessment to determine historical and current status  
Completing an inventory to determine statistics, processes, programs, services, facilities, technology, etc.
Benchmarking for next practices
The groups will produce a set of recommendations and outline the timeline for their implementation by the end of 2016.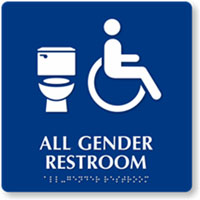 This semester, you will see improved signage and maps for restrooms across campus, with more all gender facilities identified [see image of the signage template at left].
In addition, the new space for interfaith use will be identified. The other items such as academic program development in LGBTQ and Afro-American Studies and strengthened Accessibility Resources will require more time. However, we remain determined to implement them in the near future.  Nicole Roach, associate vice president for Diversity and Inclusion, is taking the first steps needed to form a Student Diversity Council. 
Please visit the Diversity and Inclusion website for important information and updates.
As we work to finish out another academic year, we thank you for continuing to encourage the dialogue and discourse to inspire understanding of self and others.
Beth Stroble
President, Webster University
Julian Z. Schuster
Provost, Senior Vice President and Chief Operating Officer, Webster University
tags:  announcement, president, provost, diversity and inclusion, webster life, webster today,
News by Topic
Tag Categories
News by Topic
Tag Categories