Faculty Senate Convenes First Meeting of 2016-2017
Jun. 21, 2016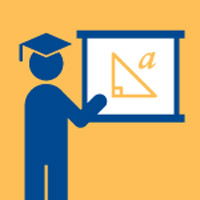 Faculty Senate President Gary Renz convened the first meeting of the 2016-2017 Faculty Senate on June 2, 2016. Renz, a longtime professor in the Management Department in the George Herbert Walker School of Business & Technology, was elected by a ballot vote of the faculty in February and took office on June 1 for a three-year term.
At the meeting Renz outlined a vision of Senate leadership that focuses on continuing and strengthening Webster's tradition of shared governance, working collaboratively with President Stroble and Provost Schuster, as well as enhancing the voice of the faculty as Webster moves into its second century.
Other important goals of the new Faculty Senate includ, enhancing transparency and continuity in communications, engaging other faculty members through ad hoc committees, and providing a more systematic approach for dialogue around critical issues that affect the university. The Senate also discussed broad ideas for the upcoming faculty Fall Institute, planned its annual meeting calendar, and elected a new vice president, Basiyr Rodney, School of Education. 
Minutes of Senate meetings are available online at www.webster.edu/faculty-senate/. Faculty and other community members who wish to follow the work of the Senate may access the minutes at this online portal.
Faculty Senate Members
Faculty Senate Members for 2016-2017 include:
Vice-President of the Faculty Senate
Basiyr Rodney (Teacher Education)
At-Large Faculty Senators
Ryan Groeneman (Biological Sciences)
Michael Hulsizer (Psychology)
Terri F. Reilly (Anthropology & Sociology)
Eric Rhiney (Management)
Hemla Singaravelu (Professional Counseling)
Open Seat
College of Arts & Sciences
Jill Stulce (Nurse Anesthesia)
Open Seat
Leigh Gerdine College of Fine Arts
Robin Assner-Alvey (Art, Design & Art History)
Gary Glasgow (Conservatory of Theatre Arts)
George Herbert Walker School of Business and Technology:
John Aleshunas (Math & Computer Science)
Debbie Psihountas (Business)
School of Communications
Larry Baden (Communications & Journalism)
Kathy Corley (Electronic/Photographic Media) (Scott Jensen Communications & Journalism Replacing Fall 2016)
School of Education
Basiyr Rodney (Teacher Education)
Joseph Sencibaugh (Teacher Education)
tags:  faculty, faculty senate, webster today,
News by Topic
Tag Categories
News by Topic
Tag Categories