Basiyr Rodney Elected Faculty Senate Vice President
Jun. 21, 2016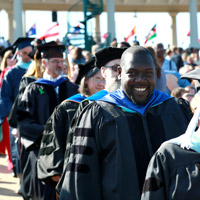 Basiyr Rodney, Department of Teacher Education in the School of Education, was elected vice president of the Faculty Senate for the 2016-2017 academic year.
At the Senate's first meeting held June 2, Senate President Gary Renz proposed the election of Rodney to the position. Renz expressed the aspiration that the Senate should include many different voices from the schools and colleges and also provide space for faculty members in different stages of the academic ladder to have a place in the Senate.
Rodney thanked the senators for their confidence in him and expressed the desire to continue to work to enhance faculty voices at Webster University.
Renz thanked the outgoing vice president, John Aleshunas, for his engaging leadership. Aleshunas remains on the Senate and will continue to provide ongoing leadership.
The vice president of the Faculty Senate is tasked primarily with planning faculty collaborative events such as the Fall and Spring Institutes. The vice president is also expected to maintain general communication of Senate activities among faculty and the Webster University community.
Minutes of Senate meetings are available online at www.webster.edu/faculty-senate. Faculty and other community members who wish to follow the work of the Senate may access the minutes at this online portal.
tags:  faculty, school of education, faculty senate, webster today,
News by Topic
Tag Categories
News by Topic
Tag Categories