GLA in Athens: Exploring Leadership Traits and Greek Islands
Jun. 15, 2016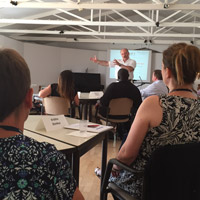 During their summer week in Athens, the 2016 Global Leadership Academy fellows spent Tuesday with leadership expert David Pendleton, who led them through the evolution of modern leadership and the traits that can help and hinder effective leadership.
He asked, "In the future, when the history of your organization is written, what do you want your chapter to be called?" 
He argued that responsive leadership is critical for success. "Change happens fast and unpredictably," he said. 
The fellows then spent the afternoon exploring the results of their leadership traits assessment
Wednesday was a day for a classic experience: a boat tour of several Greek islands.
Thursday will be a very busy one, with GLA teams presenting their group findings on data literacy's role at Webster, and the high-impact learning of undergraduate research.
The @MyWebsterU Instagram account is being helmed this week by GLA fellow Jennifer Starkey, associate director of public relations in Global Marketing & Communications. Follow that account for more scenes from their week in Athens -- and follow it year-round for global student life coverage throughout the Webster network.
See highlights from the first few days of their week here.
About Global Leadership Academy
The Global Leadership Academy (GLA) is a leadership development program open to the faculty and staff of the Webster University global community. GLA fellows are selected each year to participate in a series of workshop and activities that help them to lead successfully in their roles and positions within the University.
Applications from faculty and staff are solicited in the fall for participation in the next cohort.
tags:  employee news, faculty, global, webster life, webster today,
News by Topic
Tag Categories
News by Topic
Tag Categories