GLA Emphasizes Understanding Webster Network, Diversity, Inclusive Leadership
Mar. 11, 2016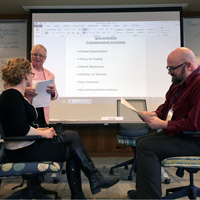 Members of the 2016 cohort of the Global Leadership Academy continued their first week of in-person work together, with a focus on a comprehensive understanding of the Webster University network while honing inclusive communication and leadership skills.
After "meeting" online through WorldClassRoom this spring, the fellows have spent this week hearing from different University areas and outside leadership and inclusion experts.
After earlier this week exploring mission-driven innovation with the president and provost, examining their own strengths, and hearing network and leadership perspectives from biology faculty member Mary Preuss, associate dean of students John Buck, and the GLA directors, the fellows spent Wednesday morning focused on diversity and inclusion exercises.
Betsy Schmutz, associate vice president and chief human resources officer, Nicole Roach, associate vice president for Diversity and Inclusion, and Kenneth Pruitt of the Diversity Awareness Partnership led those sessions.
Thursday brought more guests from throughout Webster to help the cohort better understand the operations and market position of the University.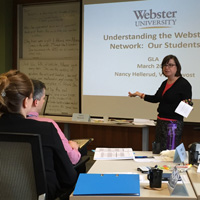 Among them:
Nancy Hellerud, associate provost, discussed student demographics and market opportunities in "Understanding the Webster Network."
Julie Weissman and Justin Bittner, Office of Institutional Effectiveness, presented "Understanding and Using Data Effectively."
Vickie Fredrick, Barrett Studdard and Curt Vehlewald from Finance and Administration presented on "Finance and Budgeting in Higher Education."
On Friday, the cohort dove into more leadership lessons, particularly "learning-centered leadership" led by Paul Paese, as they prepared to wrap up their week together.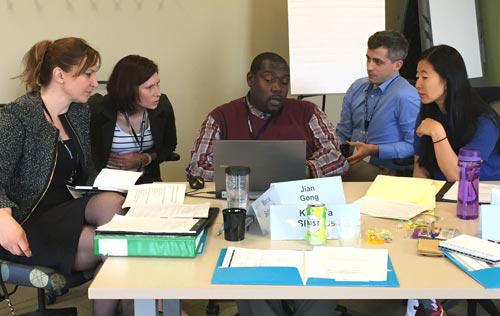 GLA discussions and assignments continue online as the fellows return to their respective campus locations and departments. Their next stop together: this summer in Athens, Greece, where they will spend a week at Webster's newest location.
About Global Leadership Academy
The Global Leadership Academy (GLA) is a leadership development program open to the faculty and staff of the Webster University global community. GLA fellows are selected each year to participate in a series of workshop and activities that help them to lead successfully in their roles and positions within the University.
Applications from faculty and staff are solicited in the fall for participation in the next cohort.
tags:  employee news, faculty, global leadership academy, gla, global, webster life, global innovation through inclusive leadership, webster today,
News by Topic
Tag Categories
News by Topic
Tag Categories