[UPDATE] Go Red on Feb. 5: Wear Red, Wear Jeans, Help Fight Heart Disease
Jan. 27, 2016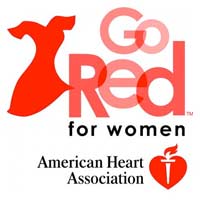 Updated Feb. 9, 2016:
Thanks to the 156 faculty and staff who contributed $1,065 to the Go Red Campaign sponsored by Webster Wellness. These contributions will go to the American Heart Association to support educational programs to increase women's awareness about their risk for heart disease and stroke as well as support critical research to discover scientific knowledge about cardiovascular health.
* * *
For the past several years, Webster University has actively participated in the American Heart Association's National Wear Red Day campaign, Go Red for Women.
This year's goal is to raise $1,000 and increase awareness in the fight against heart disease in women. By wearing red and making a donation of any amount, you can be part of raising awareness of what the American Heart Association (AHA) calls "the silent killer." 
Wear Jeans with a $5 Donation on Feb. 5
Friday, Feb. 5, is your chance to join your Webster colleagues and people from all over the country in fighting heart disease in women. Make a donation of $5 and wear jeans with your red!
For donations of $10 or more, you will receive a red dress pin (while supplies last) that you can wear (or share) to show your support for the Go Red campaign. Of course, donations in any amount are welcome.
Home Campus Donation Locations:
East Academic Building 320, School of Business and Technology, Lori Sharp
Emerson Library Reference Desk, 2nd floor
Garden Park Plaza, Advising, Julie Altmann
Loretto Hall ground floor, Human Resources, Paula Eschmann
Loretto Hall 1st floor, Academic Affairs, Francine Case    
Loretto Hall 4th Floor, Advancement, Rachel Johnes
Sverdrup Building 211, School of Communication, Merideth Daly
University Center, Katie Knetzer
Webster Hall Welcome Center, Admissions, Jennifer McQuay       
Extended Campuses & Online Donations:
If you're at an extended site OR would like to donate online, check out our National Wear Red Day Fundraising Page where you can make donations online (on or before Friday, Feb. 5) that will go directly to the American Heart Association and will count towards Webster´s fundraising goal.
On behalf of Webster Wellness, thanks for your support! If you have any questions, please contact wellness@webster.edu.
tags:  employee news, extended campus, webster life, webster today, webster wellness, human resources,
News by Topic
Tag Categories
News by Topic
Tag Categories