Invitation for 2017-18 Provost Faculty Fellow Program
Oct. 26, 2016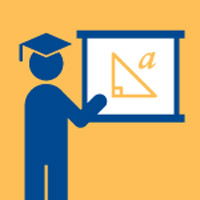 The Provost's Faculty Fellows Program is an invitation for faculty members to contribute to the leadership of key strategic efforts of Webster University on a part-time basis by partnering with Academic Affairs or its support units (Faculty Development Center, Academic Resource Center, Academic Advising, Office of Institutional Effectiveness, Study Abroad or other units or committees that support faculty and students).
This opportunity allows faculty to work on special projects that are of particular interest and importance that take full advantage of the unique interests, skills, and academic backgrounds of the University's diverse faculty.
Proposals are invited from faculty with specific projects designed to impact the direction of the university for which faculty leadership is essential for successful results. Projects are tied to themes from the University's strategic plan, Global Impact for the Next Century.
Project deliverables may take various forms, including student resources, faculty development, scholarship, and/or external engagement. As a part of previous projects, faculty fellows have:
Conducted comprehensive literature reviews to identify best practices and resources
Created and delivered hands-on faculty development workshops
Organized faculty learning communities for collaborative exploration of topics across disciplines
Developed handbooks and resource guides to assist faculty members with future projects
Provided faculty consultations and office hours for faculty support and development
Faculty fellows partner with the appropriate unit best prepared to provide support for the identified deliverables of the project. It is expected that there will be five faculty fellows in the 2017-18 academic year. The Faculty Development Center, Academic Resource Center, Academic Advising Center each have faculty fellow opportunities. Furthermore, faculty are encouraged to propose projects based in other areas (e.g., Office of Institutional Effectiveness, Office of Study Abroad).
It is anticipated that the time commitment for these activities will require an average of four hours of work per week for one academic year. 
Fellows are awarded a $4,000 stipend for their work. Alternatively, if in keeping with the needs and preferences of the department and college/school, fellows may ask their department chair and dean to approve a three credit hour course release occur during the academic year of the fellowship. Applicants are asked to discuss this with their chair and dean as part of the application process outlined below. 
Eligibility
Full-time Webster University faculty member
Projects demonstrate alignment with themes from the University's strategic plan, Global Impact for the Next Century
Proposal Requirements and Application Process
Complete a proposal that includes the following:

Description of what your fellowship will involve, the outcomes/impact you hope to have, and details about specific deliverables
An explanation of the strategic importance of this work including the benefit to the university and how it advances the mission, vision, and values of Webster University and alignment with themes from the University's strategic plan, Global Impact for the Next Century
A title to describe the focus of your work in communication materials
A description of your background experience, qualifications, and interests that you would bring to your fellowship
Ask your department chairperson and dean to submit a brief statement of support to provost@webster.edu
Submit your proposal electronically to provost@webster.edu by Jan. 13, 2017
Selection Process
A selection committee comprised of representatives from Academic Affairs and its academic support departments, as well as previous faculty fellows, will review all applications and select fellows based on applicant qualifications related to the project described, nature of contribution to university strategic efforts, alignment with the needs of identified academic support unit. 
Responsibilities
Completion of the activities and deliverables as outlined in the proposal
One-page progress report to be submitted at the end of each academic term
Please contact Erik Palmore, director, Faculty Development Center, at palmoeri@webster.edu or 314-246-8648.
tags:  employee news, faculty, provost, webster life, webster today,
News by Topic
Tag Categories
News by Topic
Tag Categories