Call It Productivity 365: Global, Mobile Microsoft Access Coming to Webster University
Sep. 15, 2016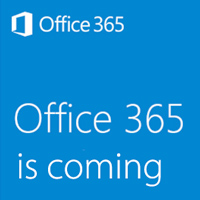 The Webster University community asked, and Information Technology is delivering. Throughout this academic year the worldwide community will gain access to a powerful menu of new tools that increase individual flexibility, productivity and strengthen the capacity to collaborate among faculty, students and staff alike.
Get ready for a comprehensive suite of apps available anywhere a Webster student, faculty or staff member is ready to study, work, collaborate or connect.
The benefits will reach every part of the worldwide community. Over the next few months, the Information Technology implementation will create mobile tools fit for a global university, where students, faculty and staff can find themselves in Thailand during one term and Central Europe the next.
Same Sign-On: One Password for Your Webster Apps
The first step in the process will be modernizing the University's password security protocol and unifying it for what is known as "same sign-on."
While for many users this enhancement will require the creation of new and longer passwords, a major benefit – in addition to increased security for personal and institutional data – is that "same sign-on" will allow individuals to use the same password to access many University-managed applications.
Paving the Way for Office 365
The adaption to Same Sign-On enables integration for the larger project: Webster has subscribed to Office 365, a suite of cloud-based applications that encompasses everything from email and calendaring to storage and collaboration software.
Look forward to applications like the following:
Archive, Backup & Cloud-based Storage – Storage for your documents and files, accessible from anywhere and any device.  Provided as a second option to the enhanced on-site storage option introduced in fall of 2015
Office Online (MS Office applications like Word, Excel, PowerPoint)
Office ProPlus (Access to download Office applications to 15 personally owned devices)
Enhanced Password and Security Services – Access to self-service password reset
Email – new, more stable and secure email platform, with self-managed distribution list
Calendar – shared calendaring across units 
For administrative functions, internal processes will be streamlined, made more consistent and modern. For example, an Adobe electronic forms pilot is underway that will automate some of our current processes that are still paper-based; similarly, application processes like student housing and the CLERY reporting system will be modernized.
App Access Anywhere
"The Office 365 global rollout is another step in Information Technology's global strategy to implement the latest tools and create a seamless, student-centered experience in accordance with Webster's strategic plan," said Ken Freeman, vice president and chief technology officer. "This will provide students greater tools, but just as importantly, it will also provide our faculty and staff greater tools with which to help our students."
Other recent or on-going projects in IT's global strategy include the improved Connections portal and global Adobe agreement, and more robust Wi-Fi access. 
Users will be able to use these applications at their work stations. They'll be able to add them to personal devices. They'll be able to use them in an office in Webster Hall or at home, in the dining area of the University Center, or in Little Rock, Charleston and Leiden.
As it happens, the rollout will also strengthen and unify the University security position, while also more clearly defining user access roles. Part of the rollout will entail role-based access control (RBAC), which identifies roles and associated services within the University.
And, of course, "O365" will provide students, faculty and staff the kind of flexible, on-the-go, anytime access they've come to expect in the mobile digital age.
The community will hear more from IT as the rollout begins and individual units and users are contacted for the first phase. By the end of this academic year, the digital experience of faculty, staff and students will have changed for the better.
Further Resources
Keep up with announcements and resources for O365 rollout at www.webster.edu/technology/o365.
tags:  academics, employee news, students, information technology, faculty, webster today,
News by Topic
Tag Categories
News by Topic
Tag Categories