Tribute to Martin Luther King Jr.: Remembering his legacy and vision
Jan. 15, 2016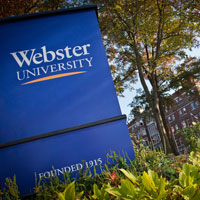 A message to the Webster University community:
Dear faculty, staff and students,
Monday, Jan. 18, 2016, is Martin Luther King Jr. Day, a U.S. federal holiday celebrating the life and legacy of civil rights leader, Martin Luther King Jr. Webster University campuses in the U.S. are closed for this holiday as the Webster community recalls the impact Dr. King had and continues to have on the U.S. and on the world. He inspired our history and ongoing struggle for acceptance and treating all people with dignity and respect.
Dr. King captured the essence of inclusion in this question not to be answered lightly:
"Life's most persistent and urgent question is, 'What are you doing for others?'"
In recognition of Martin Luther King Jr. Day, we encourage those in the St. Louis region to attend the 21st Annual Dr. Martin Luther King Jr. Community Celebration in the Webster Groves School District on Sunday, Jan. 17. Two Webster students - Bernell Lassai (BFA, Musical Theater) and Mychael Thompson (BFA, Acting) - will perform as part of the event.
As we prepare to celebrate Black History Month in February (in the U.S.), we invite you to visit our new Diversity and Inclusion website at www.webster.edu/diversity.
On this site you will see an amazing historic timeline of Webster's dedication to diversity and inclusion. It started in 1915, as a college for women (nearly unprecedented at the time). King's leadership, and his death in 1968, came amid a time of great social change that affected the entire nation, including Webster. The then-Webster College president, Jacqueline Grennan Wexler, who guided the institution's transfer to a lay board of trustees, led its change to a co-educational college. Webster went on to become one of the most diverse universities in the world.
While we have made great strides, we have a long way to go. And indeed, the journey will never be complete.
We, as a university community, have embraced the broadest definition of diversity and inclusion: Diversity and inclusion embrace all human differences while building upon our commonalities as people. Diversity and inclusion initiatives eliminate discrimination and exclusion based on race, color, creed, national origin, ethnicity, gender, gender identity, sexual orientation, age, socioeconomic status, disability, religion or military status.
Embracing Diversity and Inclusion: Critical Conversations Feb. 29-March 1
The strength of Webster academically, operationally, and financially rests on our ability to welcome, to feel belonging and ownership and to engage meaningfully with each other. A significant event this year will be a very special conference to help us do just that. Please mark your calendars for Feb. 29 – March 1 for Embracing Diversity and Inclusion: Critical Conversations. See more information in this conference announcement.
Keynote addresses, student panel discussions, and facilitated dialogue sessions will create opportunities to share experiences, research, and emerging trends in creating communities that embrace diversity in ways that welcome and include. Our intention during these two days is to explore ways to move forward on the continuous path of equity, valuing the strength that comes from the diversity of the community.
As we celebrate the legacy of Dr. Martin Luther King, Jr., let us contemplate these questions:
How do we assure excellence is truly inclusive at Webster?
How do we assure the benefits of a Webster education—no matter who is taught, who teaches, what is taught, where it is taught?
How do we assure that global learning is available to all Webster students?
Dr. Martin Luther King, Jr. set the world on a path of imagining a more inclusive future for all humankind. These are just a few of the questions we will address in the coming months as we, as a campus community, continue the continuous path to equity.
Sincerely,
Elizabeth (Beth) J. Stroble, President
Julian Schuster, Provost, Senior Vice President and Chief Operating Officer
tags:  home page, president, provost, diversity and inclusion, community engagement, students, employee news, webster life, webster today,
News by Topic
Tag Categories
News by Topic
Tag Categories