Farewell for Caprice Moore Jan. 6
Jan. 5, 2016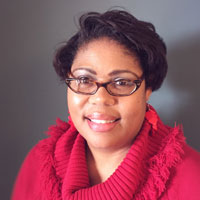 Caprice Moore, the George Herbert Walker School of Business & Technology's director of operations, has accepted the position of Associate Provost for Administration at University of Missouri Science & Technology, Rolla. Moore started at Webster University in 1999 and has held several leadership positions within the School of Education and the Walker School. She also served as past chair of Webster Staff Alliance.
As a member of the Walker School's leadership team, Moore has played a critical role in managing the day-to-day operations of the Dean's Office and Walker School initiatives worldwide.
"Caprice has been an integral part of the success of the Walker School," said Pat Masidonski, associate dean. "As a cogent professional, Caprice has always focused on what is best for students, faculty and Webster University."
"We value the many contributions that Caprice has made to the Walker School, especially her dedication and thoughtfulness to the faculty and staff. She provided wonderful advice and will especially be missed, not only by myself and also all members of our School. We take great pride not only in her achievements but also in her new and most responsible position," said Tom Johnson, interim dean of the Walker School.  
Indeed, everyone concurred that she will certainly be missed as there will be a large gap to fill. "I am humbled and honored for this opportunity," Moore said. "I will forever cherish the relationships and experiences that have shaped me personally and professionally during my tenure at Webster."
Missouri University of Science and Technology is one of the nation's top technological research universities and ranks 3rd among U.S. public universities for annualized return on investment. Its student population consists of upward of 8,000 students representing U.S. states and over 60 countries worldwide. 
Reception for Moore Jan. 6
Moore's last day with Webster will be Jan. 7. Please join us for a send-off reception on Wednesday, Jan. 6, 3-4 p.m. in EAB 102.
News by Topic
Tag Categories
News by Topic
Tag Categories