Paul DeMarinis Named Outstanding Jazz Instructor of the Year
Feb. 1, 2016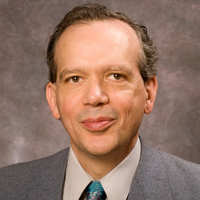 ST. LOUIS - Paul DeMarinis, professor of Music and director of Jazz Studies, can often be seen on Webster University's home campus talking to students about music, teaching classes, and playing his saxophone with other musicians. Off campus, he has been seen and heard at many live music venues, either with his own band, as a member of the St. Louis Symphony Orchestra or as a backing musician with some of the biggest names in the music industry.
This week the spotlight has focused on him, as he was named the 2016 Outstanding Jazz Educator by the Missouri Association of Jazz Educators (MOAJE). DeMarinis received the award during the Missouri Music Educators Association annual conference at the Lake of the Ozarks on Saturday, Jan. 30.  
"I am truly humbled by this honor," DeMarinis said. "I truly love what I do for a living. I love working with students and sharing music with the community, and I am honored to be recognized by fellow music educators."
"No one who knows him, though, is surprised," said Jeffrey Carter, Music Department chair. "Paul exemplifies excellence. He demands focus and dedication. He has an enviable record in both performance and education.
"Students in the Jazz Studies area are lucky to work with Paul," Carter added. "He teaches them to pursue their courses, their applied music lessons, and their careers with a passionate love for music. I believe that students truly feel a kind of pressure to live up to the expectations Paul sets for them. They crave his approval, and in winning it, they know that they have achieved a level of performance ability and knowledge that will prepare them for their careers, for a successful role in the community of jazz performers, and perhaps most impressively, for a personally fulfilling life."
A Webster University faculty member since 1980, DeMarinis teaches saxophone, jazz improvisation and jazz history, oversees the ensemble and academic jazz program, coordinates the faculty jazz ensemble, and directs the Webster Jazz Series and the Webster Summer Jazz Camp.
DeMarinis has a long association as a saxophonist with the St. Louis Symphony; in addition to many performances at Powell Hall he has performed with the symphony orchestra overseas and at New York's Carnegie Hall. He has performed with many jazz notables including the Count Basie Orchestra, Dave Liebman, Louie Bellson, Gary Foster, and Bobby Shew. In a supportive role he has been a member of ensembles accompanying a wide range of popular artists including Tony Bennett, Aretha Franklin, Ray Charles, Nancy Wilson, Doc Severinson, Johnny Mathis, Sammy Davis Jr., Gladys Knight, the Temptations, and the Four Tops.
DeMarinis is a native of St. Louis. His early musical training included private study as a clarinetist with St. Louis Symphony members Carlos Camancho, Robert Coleman, and Leland Munger. He attended Indiana University and studied jazz improvisation extensively with jazz education pioneer David Baker while playing lead alto saxophone in the Indiana University big band. He also studied improvisation with famed  saxophonist/educator Jamey Aebersold. He received his Bachelors and Masters degrees in Jazz Studies from Webster University in 1982 and 1987.
DeMarinis is the co-founder of the original music cooperative Brilliant Corners which recorded for the MAX JAZZ label in 1997, and has written extensively for his own trio, quartet, and sextet. A CD of his original jazz compositions, "The Sun...The Stars," featuring his sextet and vocalist Debby Lennon, was released in 2009. He enjoys long term musical relationships with the Kim Portnoy Jazz Orchestra and the St. Louis Jazz Orchestra and was a faculty member of Jamey Aebersold's Summer Jazz Workshops for 10 years. He has also been a faculty member of the International Summer Jazz Academy in Poland.
For more information abou the MOAJE, visit http://moaje.org/. 
tags:  academics, college of fine arts, employee news, department of music, faculty, featured, home page, webster today,
News by Topic
Tag Categories
News by Topic
Tag Categories