Reflective Teaching Community: 'Formal Curriculum vs. Shadow Curriculum' Dec. 2
Nov. 22, 2016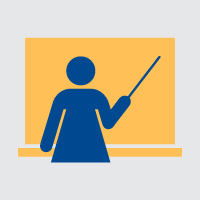 The Reflective Teaching Community (RTC) will hold its next session on Friday, Dec. 2, noon-1 p.m. All part-time, full-time faculty and academic partners are invited to join the group for discussion and a pizza lunch in the Faculty Development Center Suite (Emerson Library 420).
David Werfelmann, assistant professor in the Department of Music, will facilitate a discussion on the topic of "The Formal Curriculum versus the Shadow Curriculum," which will address the tension between the explicit skills and knowledge outlined in program curricula (the "formal" curriculum) versus the tacit, implicit skills and values instructors think students should learn (the "shadow" curriculum).
For many instructors, the formal curriculum represents only part of what students should learn. Many envision a "shadow curriculum" that imparts the skills, attitudes, and values that can serve students in diverse contexts, such as persistence, resilience, autonomy, self-awareness and self-reflection, a mindset of curiosity, social consciousness, and adaptability to change. Some skills, such as critical thinking and writing, are built into the curriculum of the GCP, but many instructors also see them as an important part of courses that are not explicitly coded for those skills. Some instructors might also perceive that students have less interest in these big-picture skills than in the content that is explicitly part of the course. How might instructors balance all of the content and skills that are an explicit part of the curriculum with all of the implicit skills they want to foster in our students?
RSVP for the December meeting to Liza Dister, Faculty Development coordinator, at edister17@webster.edu or 314-246-7602.
tags:  employee news, faculty, webster life, webster today, faculty development center, reflective teaching community,
News by Topic
Tag Categories
News by Topic
Tag Categories