Julian Schuster Selected for DoD's Joint Civilian Orientation Conference Program
Jun. 6, 2016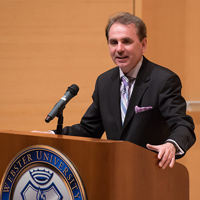 WASHINGTON, D.C. -- The United States Department of Defense has selected Julian Schuster, provost, senior vice president and chief operating officer of Webster University, for the Joint Civilian Orientation Conference (JCOC) program.
The JCOC provides an opportunity for U.S. business and community leaders to engage with senior leaders of the DoD and individual service members. It is the oldest public liaison program in the Department of Defense (DoD) and the only outreach program sponsored by the Secretary of Defense.
 Schuster's participation will deepen both his and Webster's understanding of the branches of the U.S. Armed Forces, including overall policy, force readiness and the challenges faced by individual service men and women.
"Julian's selection for JCOC speaks volumes in regards to his personal stature in the larger community and is an absolute salute to Webster and its contributions to our men and women in uniform," said retired Air Force Brig. Gen. Scott Wuesthoff, a Webster trustee. "Julian and Webster can be very proud of and will most certainly benefit from their participation in the program."
"I am honored to be selected for this prestigious program, and I look forward to the benefits this experience will provide for myself and for Webster," Schuster said. 
"Webster became a leader in military education for the past 40-plus years not only by providing access to those in uniform and the families who support them, but also by continually expanding and adapting our understanding of the needs of the armed forces and those who serve in them," Schuster said. "This experience will only increase our understanding of the challenges our students face."
Among the objectives of the JCOC are to educate and inform participants about the challenges faced by men and women in uniform both on and off the battlefield. This includes help in closing the "military/civilian divide" and assisting transitioning service members.
The experience will entail a full week (Aug. 14-20) where Schuster and others selected for the program will be guests of the Secretary of Defense Ashton B. Carter. Their week-long JCOC journey, which can include participation in military exercises, training and demonstrations, will follow discussions with senior officials at the Pentagon.  
tags:  academics, employee news, faculty, military, home page, provost, webster today,
News by Topic
Tag Categories
News by Topic
Tag Categories