Webster President Speaks before U.S. Senate Caucus
Feb. 2, 2016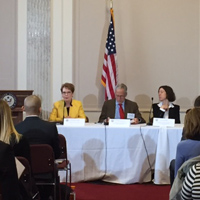 Webster University President Elizabeth (Beth) J. Stroble traveled to Washington, D.C., last week to speak before the Senate Competitiveness Caucus on the subject of higher education and the 21st century workforce. The event was a panel discussion hosted jointly by the Senate Caucus and the Council on Competitiveness. 
President Stroble's remarks focused on the important role of private independent higher education in preparing today's students as innovators and entrepreneurs. The Council on Competitiveness has produced a series of initiatives and reports on topics such as 21st century manufacturing, energy and cutting edge technology – encouraging dialogue among U.S. business, education, technology and labor leaders.
Stroble, a member of the Council, was part of a panel discussing the release of the organization's latest report entitled, WORK: Thriving in a Turbulent, Technological and Transformed Global Economy.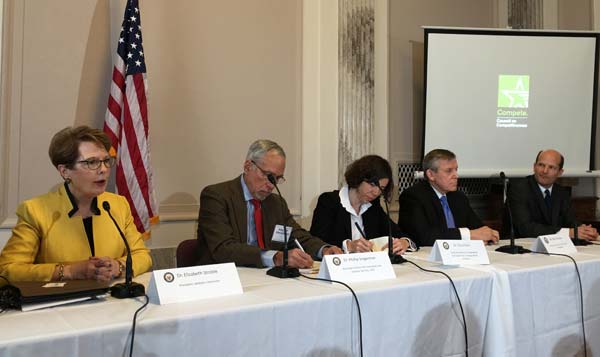 William Bates, executive vice president and chief of staff for the Council on Competiveness, moderated the panel discussion including:
Dr. Elizabeth (Beth) J. Stroble, President, Webster University
Dr. Philip Singerman, Associate Director for Innovation and Industry Services, National Institute of Standards and Technology (NIST)
Dr. Erica Fuchs, Associate Professor of Engineering and Public Policy, Carnegie Mellon University
Mr. Nick Pinchuck, Chairman, President & Chief Executive Officer, Snap-on, Inc. 
The panel responded to questions related to next generation manufacturing and models of partnership among industry, government and higher education to assure that America has the talent needed to compete globally.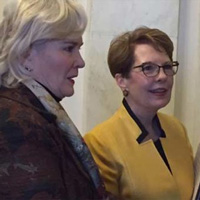 "Just as WORK elaborates on radical changes in the landscape for America's workforce, the higher education landscape is experiencing radical changes in the composition of our students and the needs we must address," Stroble said.
"The capacity of American higher education to prepare graduates for work in knowledge and technology intensive industries will be determined by our ability to respond nimbly to evolving markets and partner with entrepreneurs and innovators locally and globally."
The pace of changes for higher education is accelerating and Stroble, who also serves on the Council of Independent Colleges Steering Committee the Project on the Future of Independent Colleges, said that private universities are well equipped to adapt to the needs of tomorrow's students and prepare them for success in the global economy. 
About the Council on Competitiveness
Founded in 1986, the Council on Competitiveness is a non-partisan leadership organization of corporate CEOs, university presidents, labor leaders and national laboratory directors committed to advancing U.S. competitiveness in the global economy and a rising standard of living for all Americans. The Council is based in Washington, D.C.
About Webster University
With its home campus in St. Louis, Missouri, USA, Webster University (www.webster.edu) comprises an action-oriented global network of faculty, staff, students and alumni who forge powerful bonds with each other and with their communities around the globe. Founded in 1915, Webster is a private non-profit university with more than 17,000 students studying at campus locations in North America, Europe, Asia and Africa and in a robust learning environment online. The university is committed to delivering high-quality learning experiences that transform students for global citizenship and individual excellence.
tags:  academics, extended campus, global, home page, president, webster today,
News by Topic
Tag Categories
News by Topic
Tag Categories