[Video] Spring Convocation: Transforming for the Century Ahead
Jan. 26, 2016
Webster University faculty and staff convened at the home campus in Webster Groves or watched online from campuses around the world as Webster leaders began 2016 with the annual Spring Convocation on Jan. 14.

Recalling the two year process of planning and executing Webster's Centennial celebration in 2015, President Elizabeth (Beth) J. Stroble congratulated the community and spoke of the lessons learned from that process.
"The Centennial was about much more than, 'We're 100, let's throw a party,'" Stroble said. "What we did during the Centennial year was learn much more about the essence of Webster, a reflection on our identity, and what it is that has endured about Webster across 100 years.
"A word I've used repeatedly about ourselves is we're highly resilient. ... That resilience has helped carry Webster as society and the needs of our students changed over those 100 years."
As society and needs continue to evolve we seek to transform ourselves individually and as a community, Stroble said, because "We want to be an evermore diverse and inclusive community of faculty, staff and students."
"During this past year I'm really proud of the fact that not only were we celebrating, commemorating, reflecting, learning, we were positioning ourselves for the next transformation," she said. "Because the challenges that touch higher education are obvious to all of us. ... It's not only Webster University. Private higher education, public higher education, economic challenges, public support for higher education, job readiness and expectations -- it's everywhere. The climate has changed for higher education has changed even in just the last five years, and that pace of change is going to accelerate. So continuing to do things as we have done them is not likely to be the Webster way."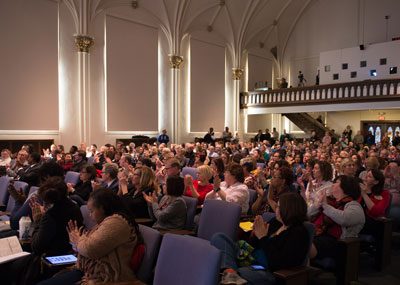 Webster's most significant challenge and opportunity, Stroble said, is a natural extension of what the University faced again and again across its first century: to make its values real in the dynamic and often unpredictable environment in Webster Groves, St. Louis, the nation, and the world in 2016 and beyond.
The transition over the last year from planning to executing the new strategic plan, "Global Impact for the Next Century," makes it an ideal time for Webster "to focus on the absolute highest priorities," she said. "To assure that what we have said are our core values, actually are."
In the last year, Stroble's perspective on this challenge has been shaped by study of Webster's history, by her year-long service on the Council of Independent Colleges' Project for the Future of Independent Higher Education, and by many conversations with Webster students and the latest reading on challenges facing higher education today. 
She quoted Frank Bruni, the New York Times contributor and author of "Where You Go Is Not Who You'll Be: An Antidote to the College Admissions Mania":
"Even if a school succeeds in using its admission process to put together a diverse student body, it often fails at the more important goal that this diversity ideally serves: meaningful interactions between people from different backgrounds, with different scars and different ways of looking at the world.  A given college may be a heterogeneous archipelago. But most of its students spend the bulk of their time on one of many homogenous islands."
To that end, then, Stroble said delivering on the promise of diversity and inclusion is intrinsically connected to Webster's ability to recruit and retain students, to fundraise and to sustain itself as a thriving institution:
"The strength of Webster academically, operationally, financially rests on our ability to welcome, to feel belonging and ownership, to engage with each other at the edge of our comfort zones because it is at the edges that we learn the most and to use Frank Bruni's words one more time: eschew the tendency to lavish our love of diversity on just some forms of diversity and instead 'unveil the complexity and splendor of the world, and prepare students to be thoughtful citizens of it.'" 
Julian Schuster, Webster's provost, senior vice president and chief operating officer, then discussed why and how the strategic plan was created, while mentioning a few examples from each of its four themes where activities or proposals are already underway, such as growing study abroad participation, building classroom environments conducive to student success, and fostering a more diverse and inclusive community.
"It behooves us as a community to address the wide variety of our challenges. So how are we going to do that? As a community we spent more than 18 months designing the new strategic plan. The surest way to grapple with the challenges we face is not to address them individually, but to understand them in their totality and then through the execution of our strategic plan, to pave a future of sustainable growth and development. 
Schuster recalled the many initiatives through which the entire community conducted the research and reflection to lay the groundwork for the strategic plan: the Internationalization Laboratory, the academic program review and prioritization, the working groups that involved more than 300 community members, the deans' global initiative, campus and site review, board of trustees retreat, and the Strategic Plan Committee itself.
"Our work on implementing and executing the strategic plan has only just begun," Schuster said. "We are not doing it simply because of some esoteric reason, or simply another item on the check list. We are doing this because it is our way to be successful, our way to address the challenges that are preventing us from becoming more successful, and our way to pave our own future in accordance with the mission, vision and values that we commonly agreed to uphold when we signed up to become part of this institution."
Diversity and Inclusion Working Groups
To expand on recent efforts in one of Webster's four core values, Nicole Roach, associate vice president for Diversity & Inclusion and Community Engagement, discussed conversations with student groups, resources available to the Webster community, the creation of Diversity and Inclusion working groups, and the upcoming two-day conference, "Embracing Diversity: Critical Conversations," scheduled for Feb. 29-March 1.
Roach emphasized the importance of each community member taking part in these conversations.
"Diversity and inclusion is not something that just one office can do," she said. "We each must define what it means to each of us and provide our own meaningful actions to improve communication and understanding amongst all people.
"Webster University has always been defined by how we set the pace in these important and crucial topics of the day. We have always been reflective of larger societal issues," Roach said, pointing to the  timeline of inclusion dating back to Webster's founding in 1915. 
"In an uncertain and complex world, universities across the world are poised to lead the discussions and the actions necessary to shape our culture in a more equitable manner. To tackle these topics, we must do so person-to-person and person by person.
"Solutions reside in the micro level of human interaction. Every single person, every prospective student, every student, every faculty member and every staff member…matters. Every person counts. Each voice is worthy to be heard. If we fail to do this, we have failed in the larger context of our purpose – our mission to provide high quality learning experiences that transform students for global citizenship and individual excellence."
Group I
Academic Curriculum: Courses and Programs
Student Success: Admission, Retention, and Graduation Rates
Co-Chairs: Simone Cummings and Dani MacCartney
Group II
Finance: Affordability and Scholarships
Priorities for University Funding: Events, Programs, Facilities for Students
Co-Chairs: Ted Hoef and Eric Rhiney
Group III
Diversity of Employees: Faculty and Staff
Education/Training for Employees and Students
Co-Chairs: Sanela Bejdic and Nicole Roach
tags:  academics, employee news, faculty, diversity and inclusion, convocation, president, provost, webster today,
News by Topic
Tag Categories
News by Topic
Tag Categories