Nominations Sought for Student Organization Advisor Award
Feb. 25, 2016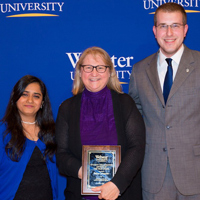 As nominations are being collected for individual student and organization student leadership awards, nominations are also sought for the outstanding faculty and staff who advise them.
Click here to submit a nomination for the Student Organization Advisor of the Year Award.
Created in 2000, this award is presented annually to the faculty or staff member who has done the most outstanding job as an advisor to help support their student organization in achieving their goals and contributing to the growth and learning of the student officers and members. Nominations are due by March 16.
The award will be presented at the annual Student Leadership Awards Ceremony on April 17.
Student Organization Advisor Award Recipients
1999-2000       Mike Hulsizer
2000-2001       Pam Miller
2001-2002       Mike Hulsizer
2002-2003       Brian Kennelly
2003-2004       John Ginsburg
2004-2005       Anne McIlhaney
2005-2006       Debbie Psihountas
2006-2007       Jennifer (Violett) Stewart
2007-2008       Gary Ford
2008-2009       Larry Baden
2009-2010       JP Palmer
2010-2011       Victoria McMullen
2011-2012       Justin Barton and Megan Wetzel
2012-2013       Eric Goedereis
2013-2014       JB Kwon and Kate Brooks
2014-2015       Debra Carpenter
tags:  academics, employee news, student affairs, students, faculty, webster today, webster life, ,
News by Topic
Tag Categories
News by Topic
Tag Categories