Staffing Updates in ARC, Student Affairs, Study Abroad
Jan. 12, 2016
With the new year comes several updates to offices that directly work with students. The Study Abroad team welcomed several new members for 2016 as the University has joined the IIE Generation Study Abroad initiative, the Academic Resource Center has a new tutor coordinator, and Student Affairs has several updates in the Dean of Students and Student Health Services offices. 
See below for details.
Student Affairs: Stroer, Storm, Andrews, Malone, Marsh
After 13 years of outstanding service to the University, Maureen Stroer's last day at Webster was Dec. 18. She spent the last three years as coordinator for Student Affairs in the Dean of Students office. Prior to that she served 10 years in the Career Planning and Development Center. She will now concentrate her energies full-time on family matters.
Phil Storm, former community director in Housing and Residential Life, has moved over to the Dean of Students office to take on the role of Student Conduct Officer/Deputy Title IX Coordinator. In this role, Storm will serve as the primary investigator for sexual offense cases and coordinate student conduct cases. If faculty and staff need to report alleged violations of the student code of conduct or the sexual offense policy, they should contact him.
Jennifer (Jenny) Andrews, former Student Health Insurance coordinator in Student Health Services, has moved over to the Dean of Students office to take on the role of coordinator for Student Affairs. Jenny will provide administrative support for Student Affairs and coordinate the Emergency Loan program, Money for Textbooks program for on-ground students, and the undergraduate tuition adjustment process.
Kelly Malone, currently the coordinator in Housing and Residential Life, will move over to Student Health Services on Jan. 19, to replace Andrews as the Student Health Insurance coordinator.
Elissa Marsh will take Malone's place as coordinator for Housing and Residential Life, starting on Jan. 19. Marsh will join from Harris Stowe State University, where she has served as the Student Engagement coordinator.
Study Abroad Ready for #generationstudyabroad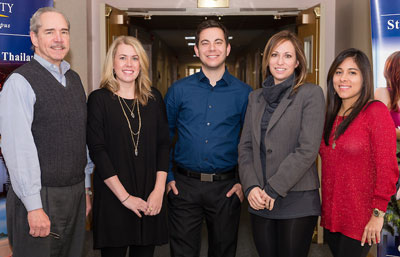 At the close of 2015, the Office of Study Abroad and WINS welcomed Johany Glen, representative; Nicholas Hall, Study Abroad advisor; and Jennifer Dickey, Study Abroad coordinator, to the team.
With a full team, their marketing and recruiting efforts are underway for summer and fall programs.  
Webster University recently pledged to double the number of students who study abroad by 2020 as part of the Institute for International Education (IIE) Generation Study Abroad initiative. The Office of Study Abroad is focused on this goal and is currently developing new marketing and recruitment strategies to attract students throughout the Webster network.  Stay tuned for more information!
Check out the Study Abroad website for updates, information and links to our social media sites.  We're on board with #generationstudyabroad and hope you will join us!
Robinson Moves to ARC as Tutor Coordinator
The Academic Resource Center (ARC) announced Chris Robinson's move from Financial Aid to the ARC as the tutor coordinator.
Robinson worked for Teach For America as a special education instructor for five years before transitioning to a position in a New Orleans charter school as the director of special education. Over the last year and a half, he has worked in the Office of Financial Aid at Webster University. He is looking forward to continuing his professional relationship with Webster in a role that allows him to more directly impact students' educations and futures. 
In this position, Robinson will work with the academic community to provide tutoring assistance and resources for Webster's students. His primary goal is to provide a strong and accessible roster of peer tutors in a certified tutoring program that is regularly evaluated for quality and growth.
Robinson has a BA with English honors from Truman State University and a masters of education in teaching from the University of Hawaii at Manoa.
He will start his new position on Jan. 19.
tags:  employee news, students, student affairs, academic resource center, study abroad, webster today,
News by Topic
Tag Categories
News by Topic
Tag Categories