Alum, Instructor Launches Tennessee Williams Festival to Celebrate St. Louis Playwright
Mar. 15, 2016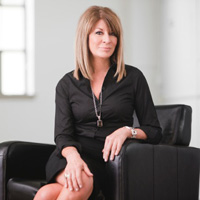 St. Louis finally has an annual festival to celebrate its favorite playwright, thanks to a Webster University alumna and adjunct faculty member.
Carrie Houk, an alumna of Webster's conservatory and a longtime adjunct faculty member in the School of Communications, was urged by many to organize the annual Tennessee Williams Festival St. Louis, which runs May 11-15. Performances will take place on a variety of both conventional and unexpected stages in the Grand Center and Central West End areas.
In addition to the performances, highlights include Academy Award-winner Olympia Dukakis and the opening of the Hirschfeld Exhibition showing Williams, who was raised in and began his career in St. Louis, during his Broadway days. Dukakis, who appears in a special "An Evening With" program May 12, has performed a variety of Williams roles during her storied career.
With a focus on St. Louis, the festival will offer something for all tastes - theatrical productions, movies, a visual art exhibition, readings, panel discussions, a tour and live music.
Houk was a natural fit to guide the festival as executive artistic director. Following her successful production of Williams' Stairs to the Roof in 2014, many Houk to honor her favorite playwright by organizing this annual St. Louis festival, including mentor, guide and festival guest David Kaplan. Peter Sargent, dean of Webster's Leigh Gerdine College of Fine Arts and a theater legend in his own right, also serves on the festival board.
"This brings together three of the greatest loves of my life—theater, Tennessee Williams, and St. Louis!" Houk said. "I'm not the only one who recognizes that it is time for St. Louis to recognize and celebrate America's greatest playwright and poet. We look forward to offering theatrical, artistic and educational offerings to the community and to becoming a major destination event."
More Info
tags:  academics, alumni, college of fine arts, conservatory of theatre arts, school of communications, employee news, faculty, webster today,
News by Topic
Tag Categories
News by Topic
Tag Categories