Webster Wellness Program Offerings, September Events
Sep. 8, 2016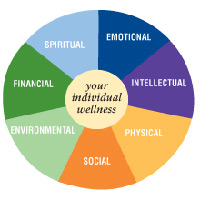 "Wellness Infusion" is the theme for this year's wellness programs! Infuse your every-day journey with the tools for success. The goal of Webster Wellness is to encourage you to make positive life-style changes that will help improve your overall health and well-being. Contact wellness@webster.edu with any questions.
Weight Management Programs offered include:
Real Appeal (UHC members only)
A free new virtual weight management program is now available to employees, spouses/domestic partners and dependents 18 and older enrolled in Webster's UHC plan and who have a body mass index (BMI) of 23 or greater.
Go to http://webster.realappeal.com/ to register. You will get a package of tools to kick off and a weekly coach to support you. It is a program that has seen great results – check it out!
Weight Watchers at Work (Faculty or Staff)
Begins Sept. 8

If you prefer an on-site program to support your weight management, consider Weight Watchers. Join an introductory meeting on Thursday, Sept. 8, at 11:30 a.m. in the Webster Groves Room, Webster Hall. This is a 12-week program that costs $156 (if you are a UHC member, you only pay $78 after your 50 percent discount from the Employee Wellness Reimbursement program).
Ongoing meetings will start Thursday, Sept. 15, same time and location.
Sept. 14: Webster Wellness and Student Success Fair (Students, Faculty & Staff)
If you want to learn even more about wellness, come to the Fair on Wednesday, Sept. 14, between 11 a.m. and 2 p.m. in Grant Gym. Infuse yourself with information and opportunities offered through outstanding wellness exhibitors, free chair massages, yummy food samples and prize drawings. The Webster Wellness team will be available at the Fair to talk to you more about all of the upcoming programs listed here. 
Sept. 16: Flu Shot Available On-site (Students, Faculty & Staff)
An annual flu shot is recommended to protect you and those you are around from the influenza. To make it easier, you can sign up at the Webster Wellness & Student Success Fair to get your shot on campus Friday, Sept.16 between 11 a.m. and 3 p.m. in the University Center Presentation Room.
If you're unable to go to the Fair but want to schedule your shot, send an email to wellness@webster.edu. You will need to present your insurance card and sign a standard waiver.
Sept. 22: St. Luke's Mammography Van (Students, Faculty & Staff)
St. Luke's Mobile Mammography van will be at Webster on Thursday, Sept. 22, from 8 a.m.-1:30 p.m. in Parking Lot G across from the Parking Garage/Bookstore. This provides an annual preventive care 2-D screening mammogram for women over 40. This does not require a doctor's order in advance and St. Luke's will report results to your primary care physician. 
To sign up, call St. Luke's scheduling at 314-205-6267, option 1. You will need to present your insurance card for coverage. 
Sept. 23: Light the Night to Defeat Cancer (Faculty & Staff)
We have teamed up with the Leukemia and Lymphoma Society to help "Light the Night" by contributing to their goal to cure leukemia, lymphoma, Hodgkin's disease and myeloma and improve the quality of life for local patients and their families. For a $5 contribution, you can wear jeans on Friday, Sept. 23, and for a $10 contribution, you are entered in a drawing for a wireless and sleep activity sports watch. We hope to raise $1,000 to make a difference.
Visit Light the Night - Webster University to make your donation.
tags:  employee news, webster life, webster today, human resources, webster wellness,
News by Topic
Tag Categories
News by Topic
Tag Categories