Keys to Wellness: 250 Turn out for Wellness Fair, collect prizes
Sep. 20, 2016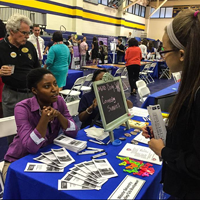 From the Webster Wellness Committee:
The 2016 Webster Wellness & Student Success Fair was a huge success. Thank you to our 37 vendors who participated and approximately 250 attendees who came. We hope that the Wellness Infusion theme supported your wellness needs and desires spiritually, emotionally, intellectually, physically, socially, environmentally and financially.
The goal of the Fair was to encourage attendees to make positive life-style changes that help improve your overall health and well-being. On behalf of Webster Wellness and First-Year Experience, thank you for attending and see you next year.
View more photos at the University's Facebook page.
The flu shot vaccination provided by Walmart Pharmacy on Sept. 16 administered 70 flu shots for staff, faculty and students.
The six grand prize winners are listed below:
Cynthia Foder (staff), Bullet Blender
Ethan Stohs (student), Sports Bracelet
Gina Reeves (student), Sports Bracelet
Kathleen Crabdree (staff), United Healthcare First Aid Kit
Linda Walker (staff), Free 60-minute massage from St. Luke's Hospital
Tracey Brenner (staff), Bluetooth Stereo Headset
Attendance Prize Drawings Winners - Student
Brittany Madison, Gorlok headband
Chelsea Thornley, Anytime Fitness prize
Hannah McFarland, infuser bottle
Jenna Rodriquez, 1 free month membership at Anytime Fitness
Katlyn Garza, foam roller
Sydney Lloyd, Anytime Fitness prize
Vivy Renkins, yoga mat
Attendance Prize Drawings Winners - Staff

Bethany Keller, infuser bottle
Debbie McWilliams, 3-30 minute sessions at Anytime Fitness
Gladys Smith, Natural Way prize
Heather Arora, infuser bottle
Holly Hubenschmidt, Gold's Gym Weight and Workout Instructions
Janet Babinsky, Resistance Band
Jenny Andrews, 3-30 minute sessions at Anytime Fitness
Jessica Mckay, Anytime Fitness prize
Maggie Dankert, infuser bottle
Ron Gibbs, infuser bottle
tags:  employee news, webster life, webster today, webster wellness,
News by Topic
Tag Categories
News by Topic
Tag Categories