ARC Customer Service Survey Feedback Invaluable
Jun. 15, 2017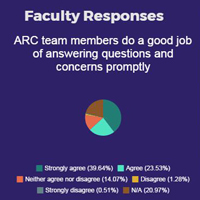 Thank you to everyone who completed an Academic Resource Center (ARC) survey. Your feedback is invaluable in helping us improve our services and communications.
Surveys to students who have used our various services went out in April, and surveys to faculty members went out in May. These customer satisfaction surveys will be repeated every two years during the same timeframe in order for us to continue a regular cycle of program assessment and process improvement.
On alternating years, we will solicit more targeted, goal-based feedback, and we look forward to your participation with those inaugural surveys in 2018.
Infographic
To learn more about key feedback that survey participants provided this year, click here to see the related infographic.
In brief summary, we want to share some specific responses to feedback we received regarding areas of potential improvement below.
Responses to Feedback from Faculty
In response to feedback from from faculty members:
1) We will add an explanation of why accommodations letters come later in the semester on occasion—essentially because the student has just documented at that time—to each of these during-semester accommodations letters.
2) In order to clarify areas of confusion regarding services, we will provide more communications about our services, what each does, how each type of user may be able to use the various surveys, etc., and we will reboot our website to focus on services by user demographics. A new communication plan has been designed and will kick off in August 2017, and the target date for the launch of the rebooted website is Fall 2018.
3) Regarding comments about students needing more time management skills, academic counselors can help! Invite us into your classes for a presentation or refer students to us to promote this assistance.
4) While many faculty members stated that Webster needs a mandatory writing course, please note that the ARC has no authority by which to require a writing course. The ARC encourages faculty members to make this recommendation through their reporting and governance structures.
Responses to Feedback from Students
In response to feedback from students:
1) Students noted customer service issues in the Testing Center. We are aware of these issues and are implementing several measures, including adding more customer service training, restructuring of some Testing Center duties, and rearranging the ARC space to create a separate welcome desk, to resolve them. Please continue to share any concerns with us as we move forward!
2) Students requested more scheduling options and availability, particularly weekend hours and more writing coaches and tutors. We do have weekend Writing Center hours (Saturdays and Sundays from 1-4 p.m.), which are held in the Webster Library, and we have already hired more writing coaches and tutors for the next academic year than in the past.
Please note that many of our tutors are seen by appointment rather than scheduled for regular hours in the ARC, but they are available and we will improve on informing everyone of these tutors' availabilities. We will also improve on publicizing and promoting all of our services, personnel, and hours and will add personnel as necessary to meet demand.
tags:  academics, employee news, faculty, students, academic resource center, academic affairs, webster life, webster today,
News by Topic
Tag Categories
News by Topic
Tag Categories