Around Webster: Global Learning, Community College conferences; Rosenblum in D.C.; Ryan AES award
Nov. 16, 2017
Recent professional news and achievements with Webster University community members include:
Rosenblum on Disability and Human Rights in D.C.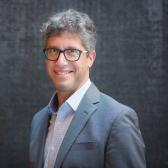 Warren Rosenblum gave the lecture "Disability and Human Rights: Towards a Global History" at the U.S. State Department's Office of the Historian in Washington, D.C.
Rosenblum is spending the fall semester in Washington as a fellow at the Mandel Center for Advanced Holocaust Studies, United States Holocaust Memorial Museum.
He is chair of the History, Politics, and International Relations Department in Webster University's College of Arts & Sciences.
During his fellowship in Washington, he is conducting research on the othering of the "feeble-minded" and the foundations of German faith in the asylum. He looks to provide insight into the role of families, doctors, and asylum personnel in stripping away legal and customary rights from persons with disabilities.
McGrath, Daniel, Cherry Present on Worldwide Curricula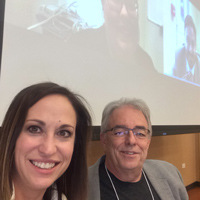 Along with Webster co-presenters Ron Daniel and Tyan Cherry, and Ediz Kaykayoglu from Kent State University, WINS director Kim McGrath led a session on "Learning Outcomes in a Worldwide Curricula" at the Global Learning Conference hosted at DePaul University.
Highlighting examples from both Kent State and Webster, including data from a recent survey, this interactive session explored global learning outcomes as related to study abroad, international and online learning.

The conference took place on Oct. 30 -31 and was attended by nearly 300 professionals. With a theme of transcending boundaries, the conference illustrated best practices and innovation in collaborative online international learning* (COIL).
Developed out of the State University of New York (SUNY), COIL is an approach to fostering 21st Century student competencies through the development of multicultural learning environments that link university or college classes in different countries using online technologies. Attendees included faculty and lecturers, instructional technologists and designers, international education and study abroad managers, and anyone interested in the internationalization of higher education. Participants and presenters shared knowledge with their peers in this growing field.

For a brief history of the SUNY COIL center, visit the website here. To discuss the conference, or for a copy of the presentation, contact McGrath at mcgratki@webster.edu.

*COIL is used to refer to any pedagogical activities that use technology to link classrooms and students in geographically distant locations through coursework. Among the other terms used to describe such activity are virtual exchange, virtual mobility, globally networked learning, telecollaboration, and online intercultural exchange.
Ryan Receives Audio Engineering Society Award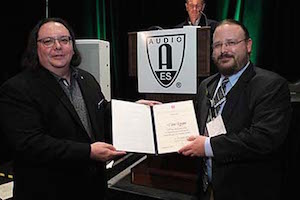 Timothy J. Ryan, associate professor and chair of the Department of Audio Aesthetics and Technology in the School of Communications, received the Board of Governors award from the Audio Engineering Society (AES).
The award is given to AES members for outstanding contributions to the society and its mission. Ryan accepted the prestigious award at Maximum Audio: AES New York 2017, the organization's 143rd international convention in October.
The award recognizes his many years advancing audio education, including oversight of the Central Region Audio Student Summit held annually at Webster University.
Read more in this School of Communications post.
Missouri Community College Association Convention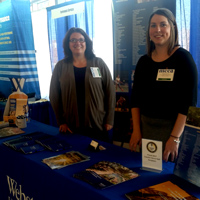 Transfer representatives Christina Gilbert and Kelsey Bourne from the Office of Admission  attended the convention of the Missouri Community College Association in Branson, Missouri. Webster University was a sponsor for the event, helping to bring community college faculty, staff, administrators and trustees from across the state together at this annual convention.
Stephanie Schroeder, assistant professor in Biological Sciences in Webster's College of Arts & Sciences, joined  Gilbert in presenting a breakout session, "Increasing Access for Science Scholars at Webster University."
The presentation showcased the National Science Foundation grant that provides funding for the Winning Approaches for Talented Transfers in STEM (WATTS) scholarship program, the process of bringing Browning Hall, the Interdisciplinary Science Building, from vision to reality, and an overview of the biology and chemistry programs.
Gilbert and Bourne interacted with attendees as exhibitors throughout the convention, sharing the fantastic academic and scholarship opportunities Webster provides to transfer students. As a convention sponsor, Webster was also provided the opportunity to briefly address all convention attendees Friday morning.
tags:  academics, college of arts and sciences, employee news, faculty, news around webster, school of communications, webster today,
News by Topic
Tag Categories
News by Topic
Tag Categories