Book Club: 'A Man Called Ove' March 6
Jan. 31, 2017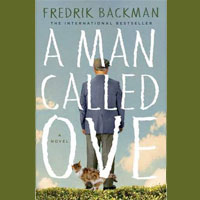 Join the Webster University Book Club on Monday, March 6, at noon in the Library Conference Room for a discussion of Fredrik Backman's A Man Called Ove. Everyone is welcome!
This Swedish novel features Ove, a grumpy, solitary man known as "the bitter neighbor from hell." In this gentle story, Ove's world changes drastically when a friendly young family moves in next door. 
Kirkus Reviews calls this a charming debut novel:
"What the book takes its time revealing is that this dyed-in-the-wool curmudgeon has a heart of solid gold. Readers will see the basic setup coming a mile away, but Backman does a crafty job revealing the full vein of precious metal beneath Ove's ribs, glint by glint. Ove's history trickles out in alternating chapters—a bleak set of circumstances that smacks an honorable, hardworking boy around time and again, proving that, even by early adulthood, he comes by his grumpy nature honestly."
tags:  employee news, webster life, webster today, library, book club,
News by Topic
Tag Categories
News by Topic
Tag Categories