Dr. Anton Wallner Appointed Dean of College of Arts and Sciences
Feb. 23, 2017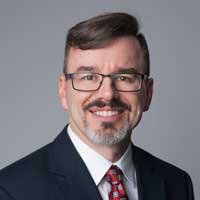 ST. LOUIS – Anton S. Wallner, associate dean of Undergraduate Programs and a professor of Chemistry at Barry University in Florida, was appointed the new dean of Webster University's College of Arts & Sciences, it was announced today.
Wallner will start the new position this summer, just in time to help faculty and staff move into Browning Hall, the Interdisciplinary Science Building.
"When Browning Hall opens to students in the fall, Webster will expand our ability to meet the region's and our students' needs.  Dr. Wallner's background in the sciences coupled with his academic and administrative experience make him the right leader to seize this opportunity for the College of Arts and Sciences," said Elizabeth (Beth) J. Stroble, president of Webster University. "I look forward to the leadership that Dr. Wallner and the Arts and Sciences colleagues will provide to educate students, create and advance knowledge in the arts and sciences, and make a positive impact locally and globally."
Julian Schuster, Webster University's provost, senior vice president and chief operating officer, said that Wallner's experience with working with faculty and the administration will open up many opportunities for more cross-disciplinary areas of study and research.
"The future of liberal arts hinges on strengthening connection between natural sciences and social sciences, as well as between liberal and professional education," Schuster said. "Dr, Wallner joins the Webster University at the pivotal moment when our teaching and research is steadily crossing boundaries of traditional disciplines. He brings to Webster a rich research experience and a strong record of attracting external grants, which are going to further propel our faculty recent endeavors in these areas. I look forward to working with Anton as he leads College of Arts as Sciences toward new successes."
 Wallner, who started his academic teaching career in Missouri, said he is looking forward to moving back to the region and working with students, faculty and staff.
"I am honored to be selected as the Dean of the College of Arts and Sciences at Webster University and look forward to working with the administration, faculty, staff, and students exceeding expectations and implementing the mission of global citizenship and individual excellence," Wallner said. "Now more than ever, the importance of a liberal arts education, disciplinary knowledge and professional experience are crucial to be successful and competitive in today's diverse world. This we will pursue and achieve together."
Wallner served as an assistant professor, and later as an associate professor, of Chemistry at Missouri Western State College from 1992 to 2000. He moved to Barry University to serve as a professor of Chemistry and the department chair of Physical Science. In 2014, he was named the interim chair of the Department of Mathematics and Computer Sciences, which he served in until last year. In 2008, he was named the associate dean of Undergraduate Programs at Barry.
Over the years, Wallner has been published nearly two dozen times in peer-reviewed journals. He also recently co-edited the book "NMR Spectroscopy in the Undergraduate Curriculum: Upper Level Courses and Across the Curriculum Volume III" with Oxford University Press. In addition, he helped land numerous grants and awards during his career including a $1.1 million grant from the Department of Energy in 2010 and a $739,000 grant from the Department of Energy in 2009.
Wallner has a bachelor's degree in Chemistry from University of Wisconsin – Milwaukee, a master's in Analytical Chemistry from the University of Michigan in Ann Arbor, and a Ph.D in Physical Chemistry from Case Western Reserve University in Ohio.
With its home campus in St. Louis, Missouri, USA, Webster University (www.webster.edu) comprises an action-oriented global network of faculty, staff, students and alumni who forge powerful bonds with each other and with their communities around the globe. Founded in 1915, Webster is a private non-profit university with nearly 16,000 students studying at campus locations in North America, Europe, Asia and Africa and in a robust learning environment online. The university is committed to ensuring high-quality learning experiences that transform students for global citizenship and individual excellence.
tags:  announcement, college of arts and sciences, employee news, faculty, home page, president, provost, webster today,
News by Topic
Tag Categories
News by Topic
Tag Categories