Faculty, Staff Recognized for Service, Leadership
May. 25, 2017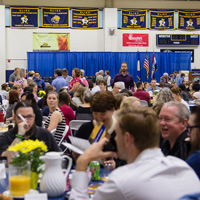 The annual post-commencement Faculty and Staff Recognition Breakfast was held May 16 in Grant Gymnasium, an opportunity for community members to pause after a busy commencement weekend and salute outstanding faculty and staff for the year's accomplishments and for career service milestones.
The singing of the alma mater was led by Department of Music chair Jeffrey Carter, adjunct faculty member Debby Lennon and accompanist Carolbeth True.
Betsy Schmutz, associate vice president and chief human resources officer, thanked the president of the Faculty Senate Gary Renz, Webster Staff Alliance chair Blerina Polovina and president of the Student Government Association Caroline Wiley for their year in University leadership roles, before recognizing the year's award recipients.
President Elizabeth (Beth) J. Stroble and Provost Julian Schuster thanked everyone for their work during commencement and over the academic year, and congratulated honorees as they crossed the stage.
Staff Members of the Year
Ruben Molina Jr., Randolph Air Force Base director, and Abby DePew, coordinator for Athletic Recruitment, Office of Admission, are the 2017 Staff Members of the Year. The annual award recognizes a staff member(s) who has truly gone the extra mile in his/her position to make significant contributions to the University. The award includes a special honor at the annual breakfast and a $1,000 performance award. Nominators submitted a compelling one-page description of their choice staff member.
Molina has guided his campus to outstanding program growth, while adding invaluable contributions to multi-campus initiatives.
His prior experience as a Webster adjunct faculty member has helped him serve students in the San Antonio area, as well as colleagues across the network on initiatives like the Blended Instruction and WINS task forces.
"Ruben brings a high degree of energy, commitment, flexibility and professionalism" to Webster, a nominator said. "He serves as a role model for others with his commitment to quality and going above and beyond."
No matter what the project or assignment, his nominator said, "Ruben's response has always been, 'You can count on me.'"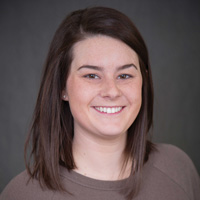 DePew has a "gregarious and industrious personality" ideal for the work of recruiting and welcoming student athletes and their families.
But the Webster alumna's leadership and impact go beyond these students, including training other admissions representatives, tackling new initiatives and boosting morale with an infectious sense of humor.
"Due to her tireless efforts, students report easier access to financial aid resources and a better understanding of their award," a nominator said, noting one of many extra projects Abby has taken on.
"Abby is a leader whom others look to for guidance. She is a role model who embodies Webster's inviting nd dynamic nature."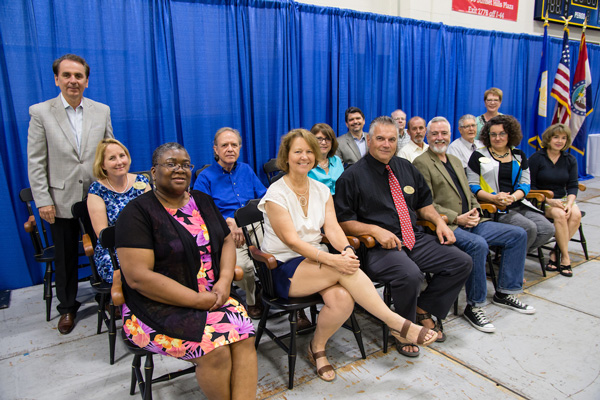 Others Honored
Also honored at the breakfast were the previously announced recipients of the University's major teaching and staff awards, as well as 208 faculty and staff in the St. Louis area reaching service milestones in five-year increments for a total of 2,945 years of service recognized. 
Robin Assner-Alvey, Gregory Hoffman, Michael Long and Amanda Rosen were recognized as the recipients of this year's William T. Kemper Awards for Excellence in Teaching, and Chris Parr, the recipient of the Wilma and Roswell Messing Jr. Faculty Award.
Twelve new retirees received special status recognition. Faculty Emeritus status was awarded to Dan Hellinger, Steven Schenkel, Graciela Corvalan, Al Cawns and Britt-Marie Schiller. University associate status was awarded to Sharon Hessler, Maya Grach, Diane Hosford, Fran Blumentritt, Mona Al-Shehbaz, Vickie Fredrick and Allen Hoffman. An additional 10 retirees were also honored for their service.

Gorlok Great Staff Awardees, Fall 2016
Gil Morales, Webster Groves
Steve Nshanian, Irvine
Katelyn Knicl, Webster Groves
Patricia Czech, Orlando
Sandra Kunz, Fort Sill
Jesse Alexander, Vienna
Gorlok Great Staff Awardees, Spring 2017
Andrew Rogers, Webster Groves
Benjamin Fasching Gray, Vienna
Amber Olawaiye, Little Rock Air Force Base
Kathy Gaynor, Webster Groves
Mollie Grossmann, Webster Groves
Stacey Ballentine, Greenville
tags:  employee news, human resources, webster today,
News by Topic
Tag Categories
News by Topic
Tag Categories