Southwest Faculty Workshop with FDC Builds Connections, Techniques for Teaching and Student Engagement
Apr. 4, 2017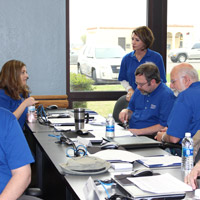 Webster University directors in the Southwest Region recently organized a faculty training workshop connecting them with the Faculty Development Center in St. Louis via WebEx, leading to new connections across the region, idea sharing among faculty on ways to leverage technology and their own expertise when engaging their students, and feedback for the FDC staff for future sessions.
Southwest regional director Sandra Kunz reached out to Erik Palmore, director of the Faculty Development Center, with the idea of organizing virtual faculty training for their southwest regional faculty meeting.
Palmore and Liza Dister, FDC coordinator, came up with a plan that engaged the faculty across the region and brought new insights about how to use technology and networks in reaching their students.
Participating sites included Fort Bliss, Fort Sam Houston, Fort Sill, Lackland AFB, Memphis, Randolph AFB, Tinker AFB and San Antonio Metro.
Leveraging Faculty Networks, Technology
"Our workshop focused on how faculty members can leverage their academic, professional, and social networks to engage their students, for instance by bringing in outside experts to speak in class or using personal contacts and community partnerships to create experiential learning opportunities for students," Dister said. "The format of the workshop included hands-on activities and small group discussions that happened locally, as well as opportunities for campuses to share ideas with one another via WebEx across the entire region."
Dister said an added benefit was that the FDC had the opportunity to hear diverse faculty perspectives on teaching and learning from different department and disciplines across the Webster network. 
"Based on the feedback we received from our workshop evaluations, the biggest advantage of using the WebNet+ format to deliver faculty development was that faculty were able to make local connections at their individual sites while also becoming part of larger conversations happening across the University," Palmore said. "This format served as pilot for how we might further support our faculty across the entire Webster network, and this mixture of local and regional interaction provides us with a good model for delivering meaningful faculty development in the future."
It was a welcome opportunity for the Southwest directors as well. 
"Sponsoring adjunct faculty development activities has always been a challenge," said Ruben Molina, Randolph Air Force Base director. "More pressing extended campus operations seem to take priority, and faculty development is often put on the back burner or it is self-initiated and computer-based. On Saturday, we pivoted.  We took a tool designed to link students from various geographic locations to a single classroom and used it to link faculty.
Leveraging WebNet+

An added benefit of the workshop: Exposing more faculty to WebNet+. Many had not experienced a classroom or developmental activity using the WebNet+ application, which is already in use to connect on-ground class settings with online students. But this workshop showed them first-hand the benefits and potential of WEBNet+ not only for faculty development, but for a variety of learning activities as well.  
"Utilizing the WebNet+ configuration to bring together eight geographically separated campus sites, with close to 100 faculty in attendance, the WebNet+ performed admirably in its execution and its viability to be used in this format," said Beth Vivaldi, director at Fort Bliss. "The faculty enjoyed the interaction with their colleagues from the other sites, and the FDC information and activity was attuned to infusing technology in our instruction."
"This was a huge success for our administration and faculty," said Sarah Butler, Fort Sam Houston director. "We had the opportunity to discuss real issues which impact our students and faculty, each term. The primary feedback I received directly from faculty members was an appreciation and respect for the items the FDC brought to the table."
Building Faculty Connections
Faculty also appreciated the opportunity to build relationships with one another, exploring ways to improve communication within the Webster community.
"Our faculty were pleased," said Jennifer Nord, assistant director at Tinker. "One of the biggest takeaways was the connection our faculty had to other campuses in the region. It was so fun to see others across our region and I think it puts the size of our faculty team in prospective."
"Our faculty discussed pertinent issues affecting today's graduate students and how to utilize various resources provided by the FDC," said Nicole Garcia, Lackland AFB director. "The faculty interaction during the session established a foundation of camaraderie amongst all campuses involved. A focus to practice innovative teaching techniques and expose future graduates to professional organizations was highly encouraged."  
"It was great working with Erik and Liza," Kunz said. "The direction offered by our FDC leaders and the respective site directors guaranteed a laser focus on the agenda."
tags:  academics, extended campus, strategic plan, military, employee news, faculty, global, webster today,
News by Topic
Tag Categories
News by Topic
Tag Categories