Faculty Recognized at 24th Annual Student Leadership Awards Dinner
May. 2, 2017
At the 24th Annual Student Leadership Awards Ceremony on April 28, faculty members Debra Carpenter, Mary Preuss and Carol Williams were recognized with the Learning Happens Everywhere Award. This is the 4th year that awards were presented to faculty, to recognize exemplary collaboration with Student Affairs professionals by:
Preparing students exceptionally well for life beyond Webster University
Facilitating powerful learning experiences beyond the classroom
Engaging in retention-related activities and initiatives
Prior recipients include: Noriko Yuasa, Dottie Marshall Englis, Bruce Umbaugh, Larry Baden, Bob Chamberlin, JB Kwon, Paaige Turner, Gad Guterman and Eric Goedereis.
Debra Carpenter, professor of Public Relations in the School of Communications, joined Webster in 1986 and has worked very closely in partnership with Student Affairs for over 30 years. Her contributions include:
Serving as chair of  student conduct hearing boards
Working with the Career Planning and Development Center on a variety of initiatives for public relations students, including an employer tour
Serving as an outstanding advisor for the PRSSA student organization
Serving on the Walker Award and Student Life Hall of Fame selection committees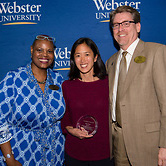 Mary Preuss, associate professor and chair of the Biological Sciences Department, joined Webster in 2009. Her contributions and work with Student Affairs includes:
Serving on the planning committee for the Global Student Leadership Summit
Teaching in the Pathways Learning Community
Serving as faculty advisor for the Student for Biological Sciences organization
Developing a career seminar for students and partnering with Career Planning and Development on an alumni panel and networking event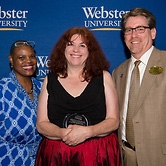 Carol Williams, associate professor of education and director of the First Year Seminar program, joined Webster in 2001. Her contributions and work with Student Affairs includes:
Working closely with First-Year Experience on the Learning Community program
Teaching in a Learning Community for many years
Working collaboratively to share research findings to foster greater success for first year students
Working collaboratively with the MCISA on the Crossing Borders program initiatives
Working collaboratively on the common reading program for first year students
Student Organization Advisor Award
The Student Organization Advisor Award is presented annually to the faculty or staff member who has done the most outstanding job as an advisor to help support their student organization in achieving their goals and contributing to the growth and learning of the student officers and members.
This year's recipient of the Student Organization Advisor Award is the advisor to AIGA (the American Institute of Graphic Arts student chapter), Noriko Yuasa. Drawn from Yuasa's six nominations, comments that characterize this outstanding advisor include:
She works tirelessly to assist students in any way possible.
She helped find funding for members to attend a national conference.
She is an amazing professor and wonderful, thoughtful person who helps with the students' life problems.
She brings notable guest speakers to visit with the students.
She is a mentor and becomes lifelong friends with the student members.
She makes sure everyone feels welcome.
She is setting up a big sibling program within the club.
She is an amazing woman who this club's members refer to as their "mother," because she takes the time to get to know each one and help them with all their needs.
This year, the nominees also included Billy Ratz, advisor to the Student Ambassadors; Anne McIlhaney, advisor to the Literature Club; Tim Ryan, advisor to the Audio Engineering Society; Matt Saitz, advisor to the Fellowship of Christian Athletes, and Anna Dickherber, advisor to the Residential Housing Association.
tags:  college of arts and sciences, faculty, school of communications, webster life, webster today, student affairs,
News by Topic
Tag Categories
News by Topic
Tag Categories