Fall Convocation 2017: Reinforcing Webster's core values during troubling global times
Aug. 25, 2017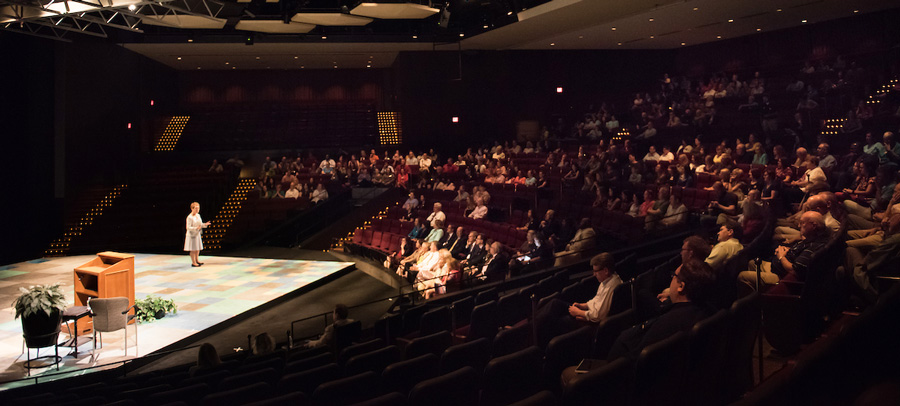 At this year's Fall Convocation address to Webster University faculty and staff, President Elizabeth (Beth) J. Stroble spoke of the current climate of world events affecting Webster communities and students around the globe. Julian Schuster, the provost, senior vice president and chief operating officer, echoed these themes in the context of Webster's four core values.
In the annual address, delivered at the Webster Groves campus and streamed live and recorded for the worldwide community, Stroble reaffirmed the need to ensure welcoming environments at each campus for students, faculty and staff of all backgrounds. 
Stroble noted that students arriving on campus now with bright hopes for their future also have recent incidents of violence and hatred, from Barcelona to Charlottesville, on their mind.
"As humans, we have our own emotional reactions to these events. As academics, we have our own theories about what they reflect about the ills in our society," she said. "But as educators, as members of a global University community, we also see in them an obligation" to make feel students feel welcome, to continue building an inclusive community, and to both preach and practice the core value of diversity and inclusion.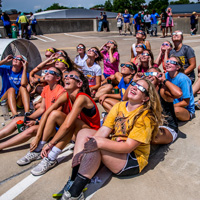 "One way to deliver on this promise," she said: "Recognize that in the face of hate and discrimination, silence is not an option."
But the benefits of inclusion and working across differences can also be quite practical, she said. From the ephemeral to the set-in-stone, Stroble cited examples of ways Webster's community has found common ground:
She thanked the community for turning Monday's solar eclipse into a regional event, which brought nearly 1,000 people to campus. Stroble also heralded the opening of Browning Hall, the interdisciplinary science building that was for decades in the imagination, years in the planning and took input and funding from people across many disciplines and connections to make a reality today.
[See a transcript of President Stroble's remarks here.]
Provost on Core Values
In his remarks, Julian Schuster, the provost, senior vice president and chief operating officer, spoke of the Greek astronomer and mathematician Archimedes, who is credited with having said: "Give me a place to stand, and I shall move the world."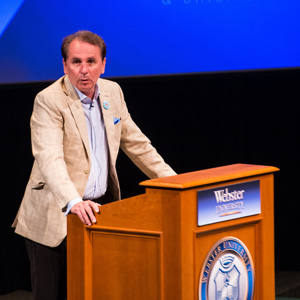 Schuster used that concept of the power of a fulcrum – specifically one person using a lever to move an object beyond normal human strength – to illustrate what Webster can accomplish upon the foundation of these values.. 
"Webster is 'a place to stand' because we have something to stand ON – our four core values: Students. Learning. Diversity and Inclusion. Global Citizenship," he said.
After the good news of Webster's record incoming first-time freshman class, Schuster spoke of the importance of building relationships with those students and all students across the network.
"We commit, in our mission, to helping students achieve 'individual excellence,' so our approach must include building relationships between faculty and students – and staff and students," he said. "But to be more student centered, and to be a model of academic and operational excellence, we need systems to help us."
The new student success portal launching this fall, the work of the Retention Committee, and other initiatives are such systems.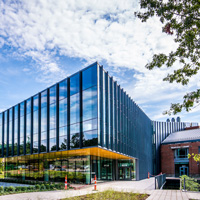 "We will strive to improve our academic support for students, including academic advising," he said. "We will encourage creativity and scholarship for ourselves and for our students. We've seen remarkable growth in the activities, infrastructure, and resources for faculty and student researchers and for collaborative research between faculty and students.
"This year, with the opening of Browning Hall, study abroad experiences with embedded research and field projects, and the NIH grant to build our capacity for research, we are poised to make an even greater impact."
That impact includes another core value, global citizenship.
"One can argue that the events of the world today have made our global mission more difficult," Schuster said. "But difficulty has never stopped Webster from continuing to strive to be greater. And so we will continue to improve and grow our distinctive global features and to encourage our students, faculty and staff across our entire network to get to know each other, to work together, to model what global citizenship means today.
Video replay: See the full convocation remarks at this live stream replay link. (Scroll to the 31:00 mark of the replay to get to the beginning of the program.)
Video: What We've Been Learning 
The close of Thursday's convocation featured a video with a variety of members of the community reflecting on the meaning of learning, and what they personally have been learning in 2017.
This was a callback to the close of Spring Convocation 2017, when Stroble and Schuster asked the community to remember to apply this Webster core value to ourselves as well as to the students we serve. Watch that video below or at this link:
tags:  employee news, faculty, president, provost, convocation, home page, webster life, webster today,
News by Topic
Tag Categories
News by Topic
Tag Categories