Gladys Smith Farewell Reception July 26
Jul. 20, 2017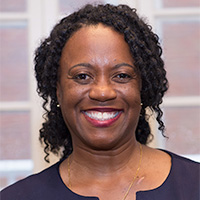 Gladys Smith, Psy.D., assistant director of counseling and life development, will be leaving Webster University on July 26, after nearly 16 years of service. She has accepted a new position at Washington University School of Medicine.
Smith began her employment at Webster in August 2001. As a member of the Naval Reserve, just one month after beginning her work at Webster, Gladys was mobilized by the Navy due to the events of Sept. 11, 2001. She was assigned to active duty on Guam for one year.
In addition to providing counseling services students, Smith has served as the Sexual Offense Advocate throughout her tenure at the University and over the years, has assisted many students who have experienced sexual assault, sexual harassment, or stalking. She has been a compassionate, understanding and ethical clinician as well as a supportive and highly valuable colleague within Student Affairs.
At Webster, she developed and led many different support groups for eating disorders, recovery from sexual assault and harassment, body image, wellness, personal growth, and depression, as well as yoga. Her support and supervision for interns and externs was commendable. Smith has also served as an adjunct faculty member, teaching first-year seminars, Webster 101 sections, and graduate counseling courses.
Beyond Webster, Smith has served as a keynote speaker at professional conferences, hosted local mental health professional development days, and had articles published in newspapers and other media outlets. During her tenure at Webster, she completed her doctorate in psychology and achieved numerous national certifications, while also maintaining her military reserve commitments (attaining the rank of Chief Petty Officer, plus receiving military commendations).
Farewell Reception July 26
Student Affairs colleagues are sad to see Smith depart Webster, but are excited for the new opportunities she will have in her new role at Washington University. Please join them in thanking her for her many years of tireless service at Webster and to wish her well in the next chapter of her professional career. A farewell reception will be held Wednesday, July 26, from 3-4:30 p.m. in the University Center Sunnen Lounge.
tags:  employee news, webster today, student affairs, ,
News by Topic
Tag Categories
News by Topic
Tag Categories