Schmutz Retiring after Nearly 16 Years Advocating for Employees
Dec. 18, 2017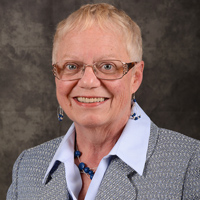 Some leadership roles come with notoriety and frequent public acclaim. Others are marked more by a behind-the-scenes nature, which can obscure the importance of the work and its impact on individuals.
The scope of work for Betsy Schmutz at Webster University was wide. The public awareness of it was often limited – by necessity.
Leadership in the human resources field often requires long hours tackling complex and sensitive challenges while maintaining the utmost discretion, confidentiality and sensitivity to all involved. But the impact of Schmutz, who retires this month as associate vice president and chief human resources officer, will be felt for years to come.
As head of Human Resources, Schmutz was a constant advocate for creating policies and conditions that would both attract great people to Webster and position them to excel. That meant overseeing compensation programs, insurance benefit programs and retirement programs that help attract and retain top level faculty and staff who are committed to advancing the University's mission.
It also meant discussing what can make – and keep – Webster a great place to work with everyone from members of the board of trustees to new staff members in their first week on the job. Countless initiatives to grow employee engagement, benefits and awareness developed and grew under her leadership.
Through it all, colleagues appreciated her professionalism, tireless dedication, and the many improvements she led with the team in Human Resources.
"You have made us a better place. You upgraded policies, created transparency, and leveled the playing field for everyone at Webster," one employee said recently. "You clearly value Webster employees and improved the quality of our lives."
Doing so has not always been easy, but it has been rewarding.
"I've long felt that one of the great attributes of working at Webster is how people from any area of the University can work together and make a difference," Schmutz said after working with the Webster Staff Alliance task force that proposed the Staff and Administrator Parental Leave Policy adopted this fall (taking effect in January 2018). "The opportunities to lead are all around us."
From federal reporting requirements and an evolving U.S. health insurance landscape to new trends in employee benefits and wellness, much has changed in the industry during the time since Schmutz joined Webster in 2002. The parental leave policy was just the latest evolution that required Schmutz's renowned attention to detail and ability to shepherd a proposal through an evaluation process that considers as many outcomes and constituents as possible.
Schmutz retires just two days shy of 16 years with Webster, part of more than 25 years of human resources leadership experience in corporate and higher education settings. She is also an alumna, holding a Master of Arts in Management, with distinction, from Webster University in addition to her Bachelor of Science in Education, cum laude, from the University of Dayton.
Reception for Fyfe, Rein, Schmutz
A University reception is being held Monday, Dec. 18, to honor Schmutz as well as longtime School of Education Dean Brenda Fyfe and University Library Dean Laura Rein. Stop by between 2-4 p.m. in the Edward Jones Commons of the East Academic Building
tags:  employee news, webster life, human resources, webster today,
News by Topic
Tag Categories
News by Topic
Tag Categories