In the News: Stroble on value of degrees; '88 grad gets her day; Curtis on ransomware
May. 18, 2017
Recent news media coverage involving Webster University community members includes:
Stroble in Ingram's on Value of College Degrees
President Elizabeth (Beth) J. Stroble was quoted in an Ingram's feature, "The Value of Higher Education," that examined the costs — and subsequent criticisms — of value in higher education. "Those who argue that a degree isn't worth what it used to be don't really have much of an argument," the article states.
The article quoted Stroble on the often overlooked benefits of degrees from private institutions like Webster:
"Beth Stroble, president of Webster University, suggested that figures drawn from a universe of both private and public institutions occlude some of the different value propositions each boasts. 'Public, federal data about undergraduates at public and private institutions across the country reveal that publics and privates enroll similarly diverse students in terms of race and ethnicity and economics,' she said. But 'private institutions award larger grants to students, and the average loans assumed by their students ($19,000) have remained stable since 2006.
"Moreover, she said, private students graduate at a higher rate with a shorter time to degree, and those students repay their loans at a higher rate than those who attend public universities. 'Smaller class sizes, high-impact teaching and learning practices, and the personal attention of faculty and staff make the difference at a private institution,' she maintained."
Read the full story, "The Value of Higher Education," at Ingram's.
1988 Alumna's Long-Awaited Day Featured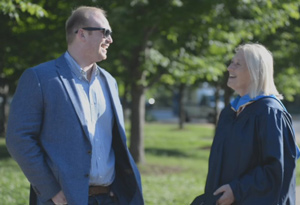 In addition to the members of the Class of 2017 who celebrated commencement Saturday, May 13, it was a special day for one member of the Class of 1988:
Karla Ramser-Young was pregnant and kept from participating in the ceremony when she finished her master's three decades ago, but her son arranged for her to cross this item off her "bucket list" as she walked in Saturday's ceremonies at The Muny in Forest Park.
Louisville's WDRB TV station ran a feature story on Ramser-Young, with the help of footage provided by Webster's Global Marketing & Communications.
Ramser-Young's son, Joshua, expressed thanks to everyone at Webster who helped make the day happen, calling it a memory he will never forget.
KSDK with Curtis on Ransomware Cyberattack
With a global ransomware attack in the news, St. Louis NBC affiliate KSDK-TV interviewed Jim Curtis, assistant professor in the Walker School's Math and Computer Science Department, on the decisions faced by companies who have been attacked:
"Jim Curtis, cyber security expert at Webster University in St. Louis says that's an individual call. If you've backed up your important files, you shouldn't have to pay. But Curtis says if you haven't taken steps to protect yourself it may cost more in the long run to fight the cyber crooks and work around their hack."
Watch more of the interview in this clip at KSDK.
tags:  academics, alumni, faculty, president, in the news, louisville, school of business and technology, webster today,
News by Topic
Tag Categories
News by Topic
Tag Categories