'Keep All Doors Open': President Stroble in Crain's St. Louis 'If I Knew Then...' Series
Mar. 14, 2017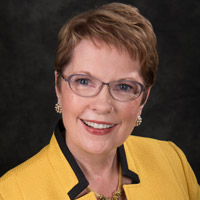 As Webster University's Global Leadership Academy welcomes its 2017 faculty and staff fellows to the Webster Groves campus this week for leadership development, Webster's President Elizabeth (Beth) J. Stroble was asked for reflections on her own leadership journey.
Stroble is the latest subject in the Crain's St. Louis "If I Knew Then..." series, which asks leaders about mistakes that shaped their philosophy going forward.
In the profile, Stroble discusses her path from faculty member to associate dean and beyond, factors that may have prevented her from getting a promotion earlier in her career, and the experience she sought to prepare herself for new opportunities along the way.
The lesson?
"Do your homework. If there is something in your record that's going to stick out, then you've got to figure out alternative ways to show your experience. Take on projects, research, initiatives and sit in on hiring processes others are engaged in. Find ways to get that experience and have your mentor help you with that."
'Calculated Risks. Educated Risks.'
And of course, use the counsel of those mentors to help you take calculated risks:
"It's good to take risks. One shouldn't ever think, particularly for women, that you have to check every single box before you put your name forward for a promotion or new position. Take calculated risks. Take educated risks. Check as many boxes as you can in gaining knowledge and experience. But use the advice of a mentor to decide where you can afford to take a risk of not checking a box and where you've got to round out your experience and background."
[...]
"I never regretted taking that first risk. It opened up the door for what I truly love doing: making a difference, leading teams, improving how the university functions for the benefit of students. It was a risk worth taking, but I learned from it."
Read the full story with Stroble's reflections at Crain's St. Louis.
tags:  home page, in the news, president, webster today,
News by Topic
Tag Categories
News by Topic
Tag Categories